Back to cleaning my bookshelves today and in the "T" section I found my old and well-worn paperback copies of books by cartoonist and author James Thurber.  I had to flip through them and start reading. I can't give them away. Here's my little valentine to Thurber.
I started reading him around the age of 12 after picking up a library anthology of humor and finding most of the content "not funny." It took me a few years to understand that humor writing is not standup comedy and that Shakespeare's comedies would not always be funny or even very happy. But Thurber made me laugh as I read, and that was a time in my life when I needed laughs.
Thurber was born in Columbus, Ohio  in 1894. When he was six years old he was playing William Tell in the backyard, and one of his brothers shot an arrow into his eye. He was blinded in his left eye, and the doctor at hand didn't know enough to suggest that the eye be removed, so his right eye swelled and was permanently damaged. Although his left eye was eventually removed, his right eye never fully recovered.
He went to Ohio State University, but left without a degree. He spent some time in Paris working for the U.S. Embassy. He tried unsuccessfully to write a novel. He moved back to New York in 1926 and got a job for the New York Evening Post. At a party, he met a young writer for The New Yorker named E.B. White.
White introduced Thurber to the magazine's editor, Harold Ross, who hired Thurber immediately — not as a writer, but as an managing editor. He was competent, but not great at that, but he was able to get a few pieces of his (unpaid) into the magazine.
After a few months, Ross transferred Thurber to the "Talk of the Town" section, and he wrote hundreds of those columns.
The first book of his that I bought was My World and Welcome to It
, a collection of stories, sketches, drawings and articles. That led me to buy a bigger collection, The Thurber Carnival
. Both books had "The Secret Life of Walter Mitty" which is probably Thurber's best-known story.
It is very different from the newer film version with Ben Stiller and the older film starring Danny Kaye. That's no surprise since the filmmakers took a short story and expanded it into a few hours. But at 12, I very much identified with that person who daydreamed about a better and more exciting life than the real one.
Nowadays, "Walter Mitty" and the "Mittyesque" are used to describe "an ineffectual person who spends more time in heroic daydreams than paying attention to the real world, or more seriously, one who intentionally attempts to mislead or convince others that he is something that he is not."
That's a pretty negative spin on Mitty. I prefer the interpretation used in the Stiller film (which really just takes Thurber's premise as the idea for the film). Walter discovers that while his fantasies develop his imagination, they are also holding him back. "Don't dream it, be it" becomes his mantra. (Hat tip to The Rocky Horror Picture Show
.)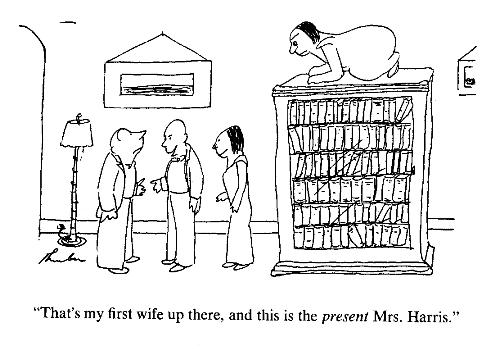 Thurber and White collaborated on a first book of prose for both of them, Is Sex Necessary?, a  goof on sex manuals and how-to books which I imagine was pretty bold for 1929. Still funny. (I always heard echoes of Thurber in early Woody Allen writing.)
Thurber's drawings of couples, dogs and other animals in outrageous situations became cartoons and a regular feature in The New Yorker.  He left the staff in 1936, but continued to freelance for them.
I also identified with his distractions as a writer. Starting a story, turning to a drawing, starting something else. In the early days, his wife, exasperated with his lousy writing habits, would set an alarm clock for 45 minutes and put it next to him. Produce!
That's supposedly how he came up with his first New Yorker piece titled "An American Romance." It is classic Thurber absurdity and still I could see it appearing on the nightly news today. A bumbling man gets caught in a revolving door and ridiculously becomes rich and famous by accidentally setting a world's record.
I think Thurber's stories easily move into our times. In his story "The Greatest Man in the World,"  we meet Pal Smurch, a lout who ends up being seen somehow as heroic or at least seen as a celebrity. It is a satire of the American propensity for hero worship. Like Mitty, Smurch is sometimes used as shorthand term for a hero, politician, or celebrity who, in person, is a jerk, but despite people knowing what he's really like, everyone is reluctant to say anything about it. I'm sure you can think of contemporary examples.
It wasn't until I had read a few collections of his stories that I discovered that Thurber had only died in 1961. Like so many writers I admired, he battled booze and had a tough time at the end, losing his vision and unable to draw, and became quite bitter. He bemoaned how The New Yorker had gone downhill after editor Ross's death. He told a friend,  "I can't hide any more behind the mask of comedy that I've used all my life. People are not funny; they are vicious and horrible — and so is life."