You are currently browsing the tag archive for the 'archaeology' tag.
As I work my way through the week, reading online and offline, listening, and looking around me, I collect things that I might want to write about here. Sometimes those notes lead to deeper searching, sometimes research, and sometimes they lead no further. Friday night is my start to the weekend and I usually post my shortest posts then.
Here are three things that are what they are and not anything more. A light buffet of ideas. Sample. Maybe you'll like something enough to go further yourself.
---
For example, I heard someone on the radio (actually, it was a podcast, but I still think of them as radio) ask if the interviewer knew what industry was worth $28 billion. That is more than the NFL, the NBA and MLB together. Answer: the book publishing industry. And I thought books were becoming a thing of the past. The statistic makes me feel better about books, bookstores and libraries – good places full of good things.
---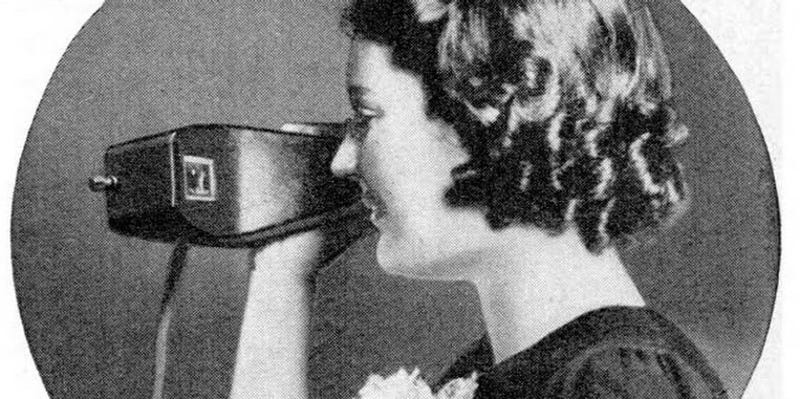 In 1938, television was an idea being developed. No sets in homes. No programs. People didn't know quite what could be done with it. When Edison was playing around with film, he wrongly was thinking of nickelodeon style viewing machines where you plunked in a coin and watch your little show. he was wrong, and rather quickly movies were projected for groups of people on a larger screen.
The same thinking was around with television. I came across this odd little device from a British company called the "Television Monocle." It had a tiny screen, measuring just 1.5 inches by 1 inch, for a personal viewing experience. It looks a bit like the viewfinder on a video camera.
As with film, the path would lead to broadcasting to big audiences. Then again, since so many of us are watching TV and films on small screens again, maybe we are actually go backwards.
---
Halloween is coming next week, so lots of chocolate will be bought and consumed. It is a historical and ancient food, though much of what we call chocolate today is far from what it once looked and tasted like.
It comes from the cultivated cacao tree (Theobroma cacao). Cacao domestication and chocolate have long been seen as emerging from Central America and Mexico where it was found mentioned in texts and there is archaeological evidence of it being consumed. It was in the form of a drink that was more gruel than modern hot cocoa.
It was once considered a food of the gods. It only showed up in the American Southwest about 1,000 years ago, but it was believed that cacao domestication and chocolate production originated in Mesoamerica less than 4,000 years ago.
But some newer research by a multidisciplinary team makes a case for chocolate use going back almost 5,500 years. They find evidence not in Mexico or Central America, but in the upper Amazon of South America.
---
It is late October. It is autumn here on the top half of the planet, but there are days that feel like summer and nights and mornings that feel like winter. I like the change of seasons. I'm not sure how I would feel about living in a place that is all one or two seasons. On a wintry day when I'm dealing with ice and snow, that kind of place sounds very appealing, but I suspect it would be boring.
We don't think of seasons in outer space. So, it surprised me to read about the seasons of Triton.
Triton is Neptune's largest moon. It has been gathering frost on its surface.  We have been observing the accumulation of the frost for 20 years and that frost continues to travel northward from the southern polar cap of Triton.
The frost comes from the sun heating and sublimating volatile material before it travels northward.
But something else that I read made me think that Ray Bradbury could have written a story about this. Triton's frost varies over the world's full season. The season lasts 84 years.
In Bradbury' story "All Summer in a Day," a class of students on Venus wait for one special day. Bradbury's Venus is a world of constant rainstorms. The Sun is visible for only one hour every seven years. When I taught that story, I knew that my students couldn't really imagine what it would be like to have only one day of summer every seven years. I can't really imagine it myself.
What would it be like to have a Triton season of 84 years that might last your entire lifetime?  I can't go any further with that thought either.
Don't be frightened. This isn't about THAT string theory – the one from physics that replace the particles of particle physics with one-dimensional objects called strings. That is a tough one to explain. I can't even imagine strings propagating through space and interacting with each other and all kinds of vibrational states and the graviton. Nope, no theory of quantum gravity today.
These strings are khipus ("knots"). They are made of twisted and tied cords and were once used by indigenous Andeans for record keeping.
These khipus (AKA Spanish spelling quipus) are best known by archaeologists as record keeping devices of the Inca Empire. That Empire had more than 18 million people and covered 3,000 miles of South America. It existed from the early 1400s until the Spanish conquest in 1532.
But what did they mean? How were they used? Was it their form of "writing?"
One older theory was that they were simple memory aids, similar to prayer beads. Current research seems to point to them being a three-dimensional writing system. Analyzing color, fiber and twist direction they found 95 unique signs. That is enough to constitute a writing system.
Those colonial-era Spaniards observed them being used never learned how they were use. But they appeared to be the way the numerical data (censuses, inventories) were recorded. But they might have also been used for narrative (phonetic) records such as letters and histories.
There are less than a thousand surviving khipus in museums and collections. Some remote mountain villages still used khipus as cultural artifacts into the 20th century, but reading them has not survived.
So far, there is no link between a quipu and Quechua, the native language of the Peruvian Andes, which suggests that they are not a glottographic or true writing system. Perhaps, they are a system of representative symbols, more like music notation, and relay information but are not directly related to the speech sounds of a particular language.
Looking at some of those strings and knots seems as difficult to interpret as the strings supposedly floating all around us in the quantum universe.
I saw a news story this weekend about continuing exploration in Luxor, Egypt in the tomb of Ancient Egypt's boy-king Tutankhamun. Many people are intrigued by Tut, but what amazes me is that this tomb from seven centuries ago still has passages and hidden chambers that we haven't discovered. The real quest there currently is to find the last resting place of the lost Queen Nefertiti.  Nefertiti, who died in the 14th century B.C. and is thought to be Tutankhamun's stepmother.
My own explorations have been of the armchair variety, but date back to my childhood. My mom bought me many of the How and Why book series about science.
I wrote one of my ronka poems about them.
The How and Why books of childhood
took me into space and into Earth,
back in time, to lost cities, dinosaurs.
I dug in, flew high, and wondered –
and no question, thankfully, ever fully answered.
One of those books took me into the jungles of South America to find the Maya and Inca lost cities. That introduced me to the ancient Incan citadel of Machu Picchu is on the eastern slope of the Peruvian Andes.
It was built about 500 years ago, at the height of the Inca Empire. A "lost city" made up of about 200 buildings, including temples, houses, and baths, it was rediscovered by an American archaeologist in 1911.
It is a place that probably is on a lot of bucket lists. There is something about a mysterious civilization and "lost city" that intrigues us. Hundreds of thousands of people visit it every year and it is one of the largest tourist attractions in South America.
Really, the city was never "lost" to the locals, but Hiram Bingham was one of the first outsiders to see it. He was in Peru in search of the lost Incan capital, Vitcos. Locals led him to a ruined city on top of one of the nearby mountains. The explorers were surprised to see families living in the area and farming on some of the lower terraces of Machu Picchu.
The following year his team cleared vegetation and started restoring the buildings. Bingham also took artifacts back to Yale with him. In 2010, the Peruvian government successfully petitioned President Obama for the return of the artifacts.
Machu Picchu has many terraced levels connected by 3,000 steps with a sophisticated irrigation system. Like other ancient structures, the construction is a marvel, even by modern standards. The stone blocks they used to build were shaped using only hard river rocks – no steel or iron chisels – but they fit so tightly together that a knife blade can't be slipped between them.
The terraces were a way to grow crops and also deal with heavy annual rainfall. Not unlike some modern landscaping, they used layers of stone, covered by smaller stone chips, sand and topsoil that allowed water to drain and avoided mudslides on the slopes.
The location might have also been used for defensive protection from enemies. But it is thought that it might have been built as a resort or estate for Incan nobility. It could have been a religious site. We still aren't sure, and a little mystery makes it more interesting.
I support the theory that, as with the Maya, at least part of its use was for astronomical observations. At the highest part of the site, the Intihuatana stone was used to mark the equinoxes and other celestial events, and local shamans consider the stone as a gateway to the spirit world.
If I ever get to visit, I will want to touch the stone with my forehead to open a vision to the spirit world., and visit the temple of the Moon, the temple of the Sun, and the Room of the Three Windows.
The Inca abandoned it at the time of the Spanish conquest when it was only a hundred years old. There is no evidence that Spanish conquerors ever found the city. One theory is that an epidemic of smallpox, carried by the Spanish, wiped out the people.

Durrington Walls via Ludwig Boltzmann Institute for Archaeological Prospection and Virtual Archaeology
While mapping the neighborhood near Stonehenge, researchers have found a row of up to 90 standing stones less than 2 miles from Stonehenge. They are big – some of them nearly 15 feet tall. It is thought to be from the same period as Stonehenge.
This old but new-to-us Neolithic monument dates back about 4,500 years ago.
Durrington Walls is the name given to the largest henge in Britain. A henge is a prehistoric monument consisting of a circle of stone or wooden uprights. Durrington Walls was thought of before as an earthwork enclosure, but now we find that hidden away has been a large stone component beneath the earthworks which, like Stonehenge, was built to align with the solstice.
Stonehenge's circle is made of sarsen stones that are around 13 feet tall. Sarsen is a silicified sandstone boulder of a kind that occurs on the chalk downs of southern England. Such stones were used in constructing Stonehenge and other prehistoric monuments. Researchers haven't dug out any of the newly-found stones, but expect that they are also sarsen which is found elsewhere in the region.
You would have thought that after 4500 years we would have found everything that was there. In 2010, the same team of researchers uncovered a "shadow Stonehenge" less than 3,000 feet from the famous monument. Last year, they found 17 ritual monuments in the same area.
Imagery for download at  http://www.lbiarchpro-imagery.at/stonehenge2015
Project website (including video material)  http://lbi-archpro.org/cs/stonehenge/
The Mayan calendar and the Maya people were in the news a lot for a year or two before the December 21, 2012 event that wasn't an event. But the Maya and the Aztecs were not the earliest civilizations in the area.
Teōtīhuacān was a pre-Columbian Mesoamerican city in a sub-valley of the Valley of Mexico,  30 miles (48 km) northeast of modern-day Mexico City. It is known today as the site of many of the most architecturally significant Mesoamerican pyramids built in the pre-Columbian Americas. It is also anthropologically significant for its complex, multi-family residential compounds.
The name Teōtīhuacān was not its true name but is one given by the Nahuatl-speaking Aztec centuries after the fall of the city. It is usually translated as meaning "birthplace of the gods"and Nahua creation myths were based there. Teotihuacan is the most visited of Mexico's archaeological sites and is impressive just for its scale. The Pyramid of the Sun is the third largest pyramid in the world. The Calle de los Muertos (Street of the Dead) was originally 4 km long and flanked by temples, palaces and platforms. There are even some murals in the Palace of the Jaguars or the Palace of the Quetzal-butterfly that have survived, along with sculptures in the Temple of Quetzalcoatl.
Recently, I have been reading reports about a continuing search for a Teotihuacan king's tomb. Mexican researcher Sergio Gómez's announcement that he had discovered "large quantities" of liquid mercury in a chamber below the Pyramid of the Feathered Serpent (the third largest pyramid of Teotihuacan) caused excitement in that research.
Gomez has been slowly working his way through a deep, dark tunnel beneath the pyramid and expects the elusive last resting place of a king to be at the end. The significance of that find would be as evidence about how power was wielded in Teotihuacan.
The ancient city was home to as many as 200,000 people and is thought to be the center of an empire that flourished between 100 and 700 A.D. (Teotihuacan is distinct from the Mayan civilization.)
Why is liquid mercury significant? It surprised the researchers who found it in the tunnel that has been sealed for nearly 1,800 years. They had found three chambers 60 feet below the temple containing many artifacts: jade statues, jaguar remains, a box filled with carved shells and rubber balls. Liquid mercury was and still is rare to find naturally occurring and it was thought by many ancient people to have powers. Its existence suggests a king's tomb or a ritual chamber.
Mercury has been found in Egyptian tombs that date from 1500 BC.
In China and Tibet, mercury use was thought to prolong life, heal fractures, and maintain generally good health, although it is now known that exposure to mercury or its vapor leads to serious adverse health effects.
The first emperor of China, Qín Shǐ Huáng Dì, was said to have been buried in a tomb that contained a model of the land he ruled with rivers made of mercury. Ironically, he died from a mercury and powdered jade mixture that his alchemists gave him for eternal life which ended up causing liver failure and brain death.
The ancient Greeks also used mercury in ointments. The ancient Egyptians and the Romans used it in cosmetics.
In Lamanai, once a major city of the Maya civilization, a pool of mercury was found under a marker in a Mesoamerican ballcourt.
Alchemists thought of mercury (AKA quicksilver) as the First Matter from which all metals were formed. They believed that different metals could be produced by varying the quality and quantity of sulfur contained within the mercury. The purest of these was gold. Mercury was used in experiments at the transmutation of base (or impure) metals into gold, which was the goal of many alchemists. It odd liquid-metal look and unusual physical characteristics intrigued the ancients.
Gómez has spent six years slowly excavating the tunnel, which was unsealed in 2003, and the mercury finding was unexpected. It may have been used to symbolize an underworld river or lake, or was there for it supernatural, alchemical or healing significance in rituals.
Spaniards dug at Teotihuacan in the 1670s searching for gold and treasure, but scientific excavation of the site did not begin until the 1950s.
The inhabitants left no written record. They abandoned the city long before the Aztecs came to power in the 14th century.
In that time, it was the largest and most populated center in the New World. It had what we would call multi-floor apartments compounds built to accommodate this large population. Was Teotihuacan was the center of an empire? We are not sure. Its influence throughout Mesoamerica is documented and Teotihuacano presence can be seen at numerous sites in Veracruz and the Maya region.  The discovery of a King's tomb would settle the debate and mark the city as the center of power for the possibly multi-ethnic Teotihuacano people.
Pyramid of the Sun
A skeleton, known as the Hoyo Negro (Black Hole) skeleton, is the most complete Paleoamerican remains known. It was found in 2007 by three divers exploring a Mexican cave.
It helps researchers get closer to understanding who the early "Americans" were and where they came from.
When I took archaeology and anthropology in college many years ago,  I learned that the first people here in what is modern America had Siberian features, and that these "Native Americans" (Paleoamericans) migrated over the now-submerged land bridge between present-day Siberia and Alaska. That occurred 18,000-26,000 years ago.
There seemed to be a gap though. The facial features of the oldest Paleo-Indian skeletons don't look much like those of modern Native Americans. But the near-complete Hoyo Negro skull of a teenaged girl that is from a later transitional period (12,000-13,000 years old, has a narrow face, prominent forehead and wide-set eyes similar to that of other skulls considered to be Paleoamerican. She also shares a genetic signature with modern Native Americans.
The skeleton has been named  "Naia," after the Greek word for "water nymph."  Her cavern home, in her time, was about five miles inland from the Caribbean and not submerged.
At the end of the last Ice Age (about 10,000 years ago), glacier melt and sea level changes flooded the cavern and after a few thousand years  it was completely underwater.
At the cave site, remains of extinct animals, including sabertooth cats were also found.
Another early American, the infant boy Anzick-1, was discovered in Montana and is about 12,600 years old. But they did not find the skull and jaw, so researchers had been unable to determine whether his features were typically Paleoamerican or more similar to that of modern Native Americans.
More at discovermagazine.com