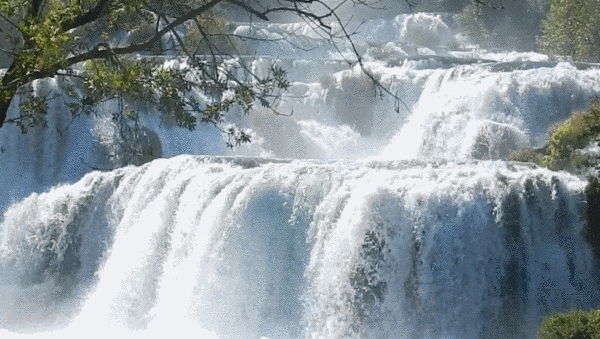 I have always been drawn to water. I'm not alone in feeling this pull.
Perhaps there is something to that lunar pull that moves the tides. The "lunar effect" is usually defined as a real or imaginary correlation between specific stages of the roughly 29.5-day lunar cycle and behavior and physiological changes in living beings on Earth, including humans. Examples of this belief have been found in ancient Assyrian/Babylonian writing.
There have been plenty of studies to consider any effects on humans. Some studies have found no correlation between the lunar cycle and human biology or on our behavior. One that I found seemed to indicate that there seems to be an effect on humans based on the amount of moonlight rather than tidal pull. An ancient belief that survived into modern times was that the monthly cycle of menstruation in women was lunar based, ut that is now considered a coincidence in timing without lunar influence.
I don't feel any monthly pull to water, but like Ishmael in the opening of Moby-Dick, I do find myself drawn to the ocean several times a year.
"Whenever I find myself growing grim about the mouth; whenever it is a damp, drizzly November in my soul; whenever I find myself involuntarily pausing before coffin warehouses, and bringing up the rear of every funeral I meet; and especially whenever my hypos get such an upper hand of me, that it requires a strong moral principle to prevent me from deliberately stepping into the street, and methodically knocking people's hats off- then, I account it high time to get to sea as soon as I can. This is my substitute for pistol and ball. With a philosophical flourish Cato throws himself upon his sword; I quietly take to the ship. There is nothing surprising in this. If they but knew it, almost all men in their degree, some time or other, cherish very nearly the same feelings towards the ocean with me."
Maybe Ishmael was suffering from Seasonal Affective Disorder (SAD). As someone who grew up with time at the Jersey Shore every summer of my life, I find that "high time to get to sea" more of a spring event than a November one.
My most regular pull to water is to local waters. There are brooks and creeks in the woods where I frequently walk that I am always drawn to visit. There is something in the tumbling water that I find very appealing.
That is magnified when I visit waterfalls nearby, from the small Hemlock Falls that was childhood destination to the Great Falls of the Passaic River. (Take a look at the Great Falls.)
There is science to this attraction. The dispersion of water from waterfalls, waves, or even lightning and water evaporation from plants, create hydrogen ions by splitting water molecules. The negative electrons join up with other free positive electrons in the air neutralizing their electrical charge. That is why people buy air ionizers (negative ion generator) which uses a high voltage charge to ionize air molecules and generate negative ions. Negative, in this case, is a good thing. A trendy, new-age version is the Himalayan salt lamps that are sold.
Naturally-occurring negative ions are said to have health benefits including enhancing the immune system, increasing alertness, productivity, and concentration. There are claims that you can get relief from sinus, migraine headaches, allergies, and asthma attacks. Some tests have shown that negative ions can stabilize alpha rhythms in the human brain. (Alpha waves usually occur when we are awake and relaxed.)
I would consider water therapy as effective as "forest bathing" and other get-into-nature therapies.
You can lead a horse to water, but you can't make him drink," is a common English proverb. It's an old one, going back to 1175 in Old English Homilies: "Hwa is thet mei thet hors wettrien the him self nule drinken" which is translated as "who can give water to the horse that will not drink of its own accord?"
You can lead people into nature or to the water, but they may not drink in its benefits. You have to be drawn towards it on your own.
As a child, Cub and Boy Scout and independent hiker and walker of the woods, I discovered early on that I was attracted, like other animals, to water. Animal paths made by deer and other creatures inevitably lead to a water source. Another quote from Moby-Dick, talks about this attraction to water and not only the sea.
"Take almost any path you please, and ten to one it carries you down in a dale, and leaves you there by a pool in the stream. There is magic in it. Let the most absent-minded of men be plunged in his deepest reveries–stand that man on his legs, set his feet a-going, and he will infallibly lead you to water, if water there be in all that region. Should you ever be athirst in the great American desert, try this experiment, if your caravan happen to be supplied with a metaphysical professor. Yes, as every one knows, meditation and water are wedded for ever."
As I wander in the woods, naturally-made paths do lead downhill because they were first worn by rainwater and then by animals making their way to a pool, pond or stream.
We are drawn to water. And that is a good thing.