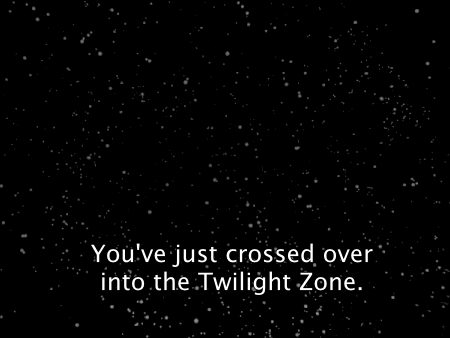 The Twilight Zone was one of my favorite shows when I was a kid. In my earliest viewing days, it often scared me and I watched it on our couch with a pillow handy to block my view sometimes. But it also had funny episodes and lots of surprise endings whether the story was more science-fiction or what would be considered horror for that time on broadcast TV.
As a young viewer, I thought that Rod Serling – the creepy smoking man that introduced each episode – wrote all the stories but I learned that a wide variety of writers were used. Some of them were very well known for writing outside of TV, such as Harlan Ellison and Ray Bradbury,
George R. R. Martin (better known for Game of Thrones) and Richard Matheson (two Jersey boys, Bayonne and Allendale, respectively) wrote for the show and for other series I talk about here. Martin wrote for The Outer Limits and Matheson wrote alter for Serling's Night Gallery.
Years later, I realized how many episodes were moral tales. I used a number of these half-hour short films in my classroom. They were even distributed at one time as VHS tapes for teachers with packets of teaching materials.
There were several TV series in the Twilight Zone mode that I eagerly watched and had definitely had influences on my reading, writing, and thinking.
Produced a year before Twilight Zone, One Step Beyond ran three seasons. For whatever reason, in the 1950s there was a lot of interest in the paranormal, UFOs, and the occult. This series differed from Twilight Zone because it used stories of supernatural events that appeared in newspapers and were thought to be "true." Unlike Twilight Zone,  they couldn't tie up the episodes neatly at the end because most of these mysteries are still unexplained.
My previous post on Conrad Aiken's story, "Silent Snow, Secret Snow," inspired this essay on some strange TV series from my youth because I recalled a film version of his story.
The Outer Limits appeared in the mid-1960s was another science fiction series that was a hybrid of Twilight Zone and One Step Beyond with original stories many of which were based on known science and some that imagined a future that might be strange or frightening based on where current science might lead us later.
Rod Serling created another series in the 1970s called Rod Serling's Night Gallery. It was in many ways a modern reboot of the Twilight Zone. I thought about it while writing that Aiken essay because I remembered that his story was dramatized on Night Gallery.
I'm almost certain that I watched the episode on my birthday, October 20, 1971. I was a freshman at Rutgers and I had no TV, so I used to go to the student center at Douglass College to study where there was a TV room. This was not an exciting birthday. I was feeling pretty lost that first semester. College wasn't what I had hoped for. I had expected to reinvent myself in college but I was the same kid I was the previous spring in high school. I even had a half dozen high school friends who were at Rutgers or our sister school, Douglass.
I tried to find the episode online and learned that it was dramatized and directed by Gene Kearney. It was narrated by Orson Welles, which I remember because I was rather obsessed at the time with Welles' films.
I found a version online (not great quality).
I also found another version of the story done earlier in black and white by Kearney.