You are currently browsing the tag archive for the 'seasons' tag.
There is snow on the ground in Paradelle and the Polar Vortex visited us this past week. The ground is rock-hard. Nothing is budding. But I saw my first robin today.
There are a lot of things that are supposed to indicate that the spring season is near. That silly groundhog in Pennsylvania who was pulled out of his home, saw no shadow (Duh, it was cloudy) and so it is supposed to be an early spring. NOAA says Phil the Groundhog has a 40% accuracy rate over 133 years – about as good as a coin toss.
It is a sure sign of spring when I once again watch the film Groundhog Day, and whatever the weather might be, I get into the Zen of that film.
Animals pay no attention to calendars, but those that hibernate or spend more time  inside than outside (like most of us) during winter do sense a warming climate. There are also internal clocks that will signal that it is time for them to emerge.
It made a kind of sense to people at one time that if they observed an animal (bears in France, badgers in Germany, groundhogs in America) emerging but then heading back inside, it must "know" something about the weather ahead.
You can also be a sky watcher like the ancients, who paid more careful attention to things up there. The movements of the Sun and Moon were very important and today is a "cross-quarter" day in the solar calendar. Today falls exactly between a solstice and an equinox.
Though it might not feel like it, consider that winter is halfway over and spring is on the celestial horizon – whether it looks and feels like it outside. I have definitely noticed that there was a longer day(light) the past week.
Many nature and garden folks look to the plants in their neighborhood for signs of spring. But I can't say that I have found them to be much more accurate than groundhogs. I saw some bulbs poking above ground back in December, but they stopped their progress. I have a patch of crocuses that get full sun all day in front of my home that always bloom a week or more before the others.

Take the snowdrops I have outside. When they bloom, it might be snowy and they add some white (and green) to the landscape. But Galanthus nivalis will bloom when they are ready no matter what the weather happens to be. They are early bloomers.  Mine are not poking out, but we have a warming week ahead, so they might break through.
Cultures and religions all have some type of seasonal celebrations. The Celtic holiday of Imbolc is an ancient one that honored Brigid (or Brigit), goddess of fire, poetry, healing, and childbirth. February first is Saint Brigid's feast day.
The ancient Imbolc (from the Old Irish imbolg, meaning "in the belly") is thought to have come from his time being when ewes became pregnant. Those would be the spring lambs. As February started, Saint Brigid was thought to bring the healing power of the sun back to the world.
Christians took the pagan holiday and repurposed February 2 as Candlemas Day (Candelora in Italy).  Though it is to mark the presentation of Jesus at the temple 40 days after her birth, the ceremony is to bring candles (and Brigid's crosses) to church to be blessed.  So it offers the elements of fire and a birth.
May Brigid bless the house wherein you dwell
Bless every fireside every wall and door
Bless every heart that beats beneath its roof
Bless every hand that toils to bring it joy
Bless every foot that walks its portals through
May Brigid bless the house that shelters you.
What made that robin return to this cold northern place now? Birds that nest in the Northern Hemisphere tend to migrate northward in the spring to take advantage of emerging insect populations, budding plants and an abundance of nesting locations.
Though the vast majority of robins do move south in the winter, some remain and move around in northern locations. Robins migrate more in response to food than to temperature and fruit is the robin's winter food source. I haven't seen any robins in my area since autumn, so I assume they went south.
American Robins eat large numbers of both invertebrates and fruit. In spring and summer, they prefer earthworms, insects and some snails. they also eat a wide variety of fruits, including chokecherries, hawthorn, dogwood, sumac fruits and juniper berries. One study suggested that robins may try to round out their diet by selectively eating fruits that have bugs in them.
As I work my way through the week, reading online and offline, listening, and looking around me, I collect things that I might want to write about here. Sometimes those notes lead to deeper searching, sometimes research, and sometimes they lead no further. Friday night is my start to the weekend and I usually post my shortest posts then.
Here are three things that are what they are and not anything more. A light buffet of ideas. Sample. Maybe you'll like something enough to go further yourself.
---
For example, I heard someone on the radio (actually, it was a podcast, but I still think of them as radio) ask if the interviewer knew what industry was worth $28 billion. That is more than the NFL, the NBA and MLB together. Answer: the book publishing industry. And I thought books were becoming a thing of the past. The statistic makes me feel better about books, bookstores and libraries – good places full of good things.
---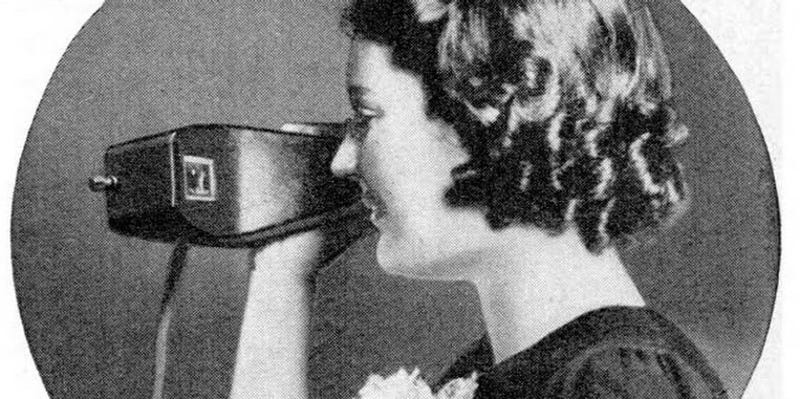 In 1938, television was an idea being developed. No sets in homes. No programs. People didn't know quite what could be done with it. When Edison was playing around with film, he wrongly was thinking of nickelodeon style viewing machines where you plunked in a coin and watch your little show. he was wrong, and rather quickly movies were projected for groups of people on a larger screen.
The same thinking was around with television. I came across this odd little device from a British company called the "Television Monocle." It had a tiny screen, measuring just 1.5 inches by 1 inch, for a personal viewing experience. It looks a bit like the viewfinder on a video camera.
As with film, the path would lead to broadcasting to big audiences. Then again, since so many of us are watching TV and films on small screens again, maybe we are actually go backwards.
---
Halloween is coming next week, so lots of chocolate will be bought and consumed. It is a historical and ancient food, though much of what we call chocolate today is far from what it once looked and tasted like.
It comes from the cultivated cacao tree (Theobroma cacao). Cacao domestication and chocolate have long been seen as emerging from Central America and Mexico where it was found mentioned in texts and there is archaeological evidence of it being consumed. It was in the form of a drink that was more gruel than modern hot cocoa.
It was once considered a food of the gods. It only showed up in the American Southwest about 1,000 years ago, but it was believed that cacao domestication and chocolate production originated in Mesoamerica less than 4,000 years ago.
But some newer research by a multidisciplinary team makes a case for chocolate use going back almost 5,500 years. They find evidence not in Mexico or Central America, but in the upper Amazon of South America.
---
It is late October. It is autumn here on the top half of the planet, but there are days that feel like summer and nights and mornings that feel like winter. I like the change of seasons. I'm not sure how I would feel about living in a place that is all one or two seasons. On a wintry day when I'm dealing with ice and snow, that kind of place sounds very appealing, but I suspect it would be boring.
We don't think of seasons in outer space. So, it surprised me to read about the seasons of Triton.
Triton is Neptune's largest moon. It has been gathering frost on its surface.  We have been observing the accumulation of the frost for 20 years and that frost continues to travel northward from the southern polar cap of Triton.
The frost comes from the sun heating and sublimating volatile material before it travels northward.
But something else that I read made me think that Ray Bradbury could have written a story about this. Triton's frost varies over the world's full season. The season lasts 84 years.
In Bradbury' story "All Summer in a Day," a class of students on Venus wait for one special day. Bradbury's Venus is a world of constant rainstorms. The Sun is visible for only one hour every seven years. When I taught that story, I knew that my students couldn't really imagine what it would be like to have only one day of summer every seven years. I can't really imagine it myself.
What would it be like to have a Triton season of 84 years that might last your entire lifetime?  I can't go any further with that thought either.
"Blackberry winter" is a new season to me, but this colloquial expression is used in south & midwest North America. It refers to a cold snap that often occurs in late spring when the blackberries are in bloom.
Timing for blackberry blooms varies depending on the weather in your area and the variety. But in the warmer climates (USDA zone 7 and south) blackberries start blooming from mid-April to early May.
In cooler climates, like Paradelle, blackberries begin to bloom in late May and are not ready to harvest until around mid-July. Though the frost-free date here is May 15, there will be no blackberry winters here. It is more likely that in April our fruit trees, like apples and peaches, will get nipped.
Some people believe that a blackberry winter helps the blackberry canes to start growing.
Another blossom that can get hit with a cold snap in our region is the cherry blossom.
The cherry blossom is a mainstay image of spring in haiku poetry. Japanese cherry blossoms and the tradition of flower gazing, or hanami, has inspired poets for centuries.
cherry blossoms scatter–
snap! the buck's antlers
come off
without regret
they fall and scatter…
cherry blossoms
~ Issa
Very brief –
Gleam of blossoms in the treetops
On a moonlit night.
A lovely spring night
suddenly vanished while we
viewed cherry blossoms
~ Basho
Drinking up the clouds
it spews out cherry blossoms –
Yoshino Mountain.
Petals falling
unable to resist
the moonlight
~ Buson
Washington D.C. is famous for the thousands of cherry trees sent there as a gift from Japan before the World Wars as a gesture of friendship. It is far less well known that Branch Brook Park in Newark, New Jersey has more cherry trees than Washington D.C.
But if you are in that warmer climate and you get a late cold snap so that a little "winter" hits during spring,  you have "blackberry winter," although there are other names for this weather anomaly: "dogwood winter," "whippoorwill winter," "locust winter," and "redbud winter" are all variations.
As with the different nature-oriented names for the Full Moons that are based on locations, these names are based on what is blooming in regions during the typical spring cold snaps.
In rural England, this is called "blackthorn winter"because the blackthorn in hedgerows blossoms in early April. In Finland, this is a common occurrence in April or May. They call it takatalvi, meaning "back winter."
Last weekend was Palm Sunday.  This week is usually a time of the year when my mind blooms. I wrote this a few years ago.
Moveable feast this Passover and Easter week.
No palms here but crocuses, wood hyacinths,
jonquils, cherry blossoms, a first bee buzzing.
Yew Sunday, Branch Sunday, triumph and victory
contained in a seed, bud, pollen, flower.
Yes, the Earth is closest to sun on January 2/3 for this entire year, but don't expect to feel it.
It certainly will not feel any warmer where I am (actually it's colder than yesterday and tomorrow is even colder). This perihelion will happen at night (10:35 p.m. EST) for me and it will be quite cold then. (It happens on the morning of January 3 5:35 UTC in Europe and Africa.) Perihelion, from the Greek roots peri (near) and helios (sun), will bring us within 91,401,983 miles (147,097,233 km) of the Sun. Though we won't feel any hotter, Earth is about 3 million miles (5 million km) closer to the sun in early January than it is in early July. This happens every year in early January. And we will be farthest away (aphelion) from the sun in early July. Seems counterintuitive to us in the Northern Hemisphere.
The difference in distance between perihelion and aphelion isn't that much because Earth's orbit is very nearly circular. That is why the tilt of our world's axis is what creates winter and summer on Earth. My Northern Hemisphere is tilted away from the sun now, so it is winter.  The day of maximum tilt toward or away from the sun is the December or June solstice, but even that won't make for the hottest or coldest days of the year. This tilting may make seasons, but atmospheric conditions make our weather change. I blame those Arctic blasts for my car's dead battery this morning.
My earlier posts here about weather lore and how we sometimes forecast the weather for the upcoming months have been getting more hits lately. A glance at the sidebar list of popular posts will probably show that this month. People are worrying about what winter has in store for them.
You can define the end of a season in several ways. I wrote earlier about seasons that you can use the "meteorological calendar" to mark changes in seasons or the meteorological which makes the four seasons into neat three-month chunks of time.
But I like to examine a third way of defining seasons which is more fluid. It is phenology – the study of periodic plant and animal life cycle events. The start of a season using this method is not based on set dates or a single event like an equinox or solstice. We look to the natural world.
You use this method, even if you never heard of phenology. You probably have watched the tree foliage changing color, the pumpkins ripening, flowers dying off, squirrels being crazier than ever and loving the falling acorns.
This is geographically specific observations. If I told you that the arrival of the first blackberry means that autumn has arrived, some would respond the blackberries appeared in July, and other people would say they ripen when the trees have lost their leaves in December.
Did you have a wet summer? Then you are likely to have a long, colorful autumn. Of course, a warm, dry spring could have prevented the sugars forming in trees which create those beloved autumn colors.
The maple trees usually turn first and then the beeches and finally the oaks give in November.
The trees know – or feel – that summer is over and stop producing the chlorophyll that gives them their green color. That lets the yellow to red pigments rule. Dry weather means more sugar which means more anthocyanins that make leaves red.
Observing nature in your area should be more accurate than any prediction about broader areas like the Northeast or very general ones about the United States.
Want to do some basic citizen science? Pay attention.
Now, it's not strong scientific phenology but do the squirrels and raccoons have thick tails? That is supposed to mean a rough winter. Are spiders spinning larger than usual webs and trying harder to get in your house? More bad winter foreshadowing along with bees taking to the hive earlier. The popular predictors, the woolly bear caterpillars, better have narrow rather than wide middle brown bands so that winter will be less severe.
How about posting a comment on this post about your own personal sign of winter being "official" in your neighborhood?  My mom used to say it was after the third frost. It's certainly not when Christmas decorations appear in stores or holiday lights get turned on in the neighborhood.
When I first heard the term "velvet season," I thought it referred to that time when members of the deer  family's antlers are in "velvet." I was wrong, but the seasons are related in calendar time.
Each antler grows from an attachment point on the skull called a pedicle. While an antler is growing, it is covered with highly vascular skin called velvet, which supplies oxygen and nutrients to the growing bone.
Once the antler has achieved its full size, the velvet is lost and the antler's bone dies. This dead bone structure is the mature antler.
The velvet begins to form in spring and is shed at the end of summer and early fall depending on the geographic area.
After the velvet is gone and the antler is hard bone, the deer move into their rutting season. The rut is the mating season of ruminant animals such as deer, sheep, camels, goats, pronghorns, bison and antelopes. During the rut, bucks often rub their antlers on trees or shrubs, fight with each other, and herd estrus females together.
But the other Velvet Season is a term used for one of the most comfortable parts of the year for people who live in the subtropics, particularly in Mediterranean climate conditions. Their velvet season is a time when the weather is not as hot as mid-summer but is still quite warm, even at night. In northern latitudes with a temperate climate, the analogue of "velvet season" is "Indian summer."
Velvet Season seems to be a term that appeared in the late nineteenth or early twentieth centuries in Imperial Russia. This was a time when it was fashionable to vacation in the Crimea and "velvet season" referred to several weeks in April and May, when the court and the royal family moved from St. Petersburg to the Crimea. It wasn't deer antlers that were being referenced, rather it was the switch for the season from fur clothes to velvet ones. The Crimea at this time was still cool. They called summer in the Crimea calico or cotton season.
So, this autumn time we are in is technically not velvet season. Set aside the royal aspect and the spring velvet season became the time to travel to the Crimean coast. It is a short season –  lasting not more than a month and usually coincides with the last week of Great Lent, Easter and St. Thomas' Sunday.
Perhaps for those of us in the northern U.S. our comparable "season" is that short period of warm weather at the end of winter or early spring. In Paradelle, that "false spring" is often followed by a snowstorm.
It is interesting that even in Russia, at some point the velvet season switched from referring to the spring to September when the crowds left the Black Sea coast and children went back to school and the upper class could have the resorts to themselves.