You are currently browsing the tag archive for the 'television' tag.
As I work my way through the week, reading online and offline, listening, and looking around me, I collect things that I might want to write about here. Sometimes those notes lead to deeper searching, sometimes research, and sometimes they lead no further. Friday night is my start to the weekend and I usually post my shortest posts then.
Here are three things that are what they are and not anything more. A light buffet of ideas. Sample. Maybe you'll like something enough to go further yourself.
---
For example, I heard someone on the radio (actually, it was a podcast, but I still think of them as radio) ask if the interviewer knew what industry was worth $28 billion. That is more than the NFL, the NBA and MLB together. Answer: the book publishing industry. And I thought books were becoming a thing of the past. The statistic makes me feel better about books, bookstores and libraries – good places full of good things.
---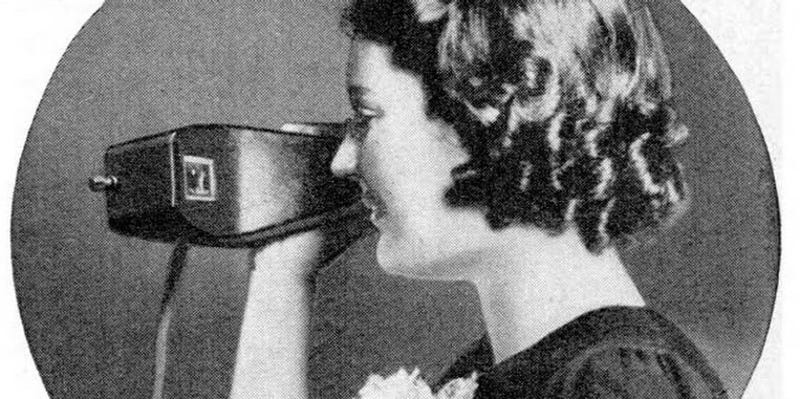 In 1938, television was an idea being developed. No sets in homes. No programs. People didn't know quite what could be done with it. When Edison was playing around with film, he wrongly was thinking of nickelodeon style viewing machines where you plunked in a coin and watch your little show. he was wrong, and rather quickly movies were projected for groups of people on a larger screen.
The same thinking was around with television. I came across this odd little device from a British company called the "Television Monocle." It had a tiny screen, measuring just 1.5 inches by 1 inch, for a personal viewing experience. It looks a bit like the viewfinder on a video camera.
As with film, the path would lead to broadcasting to big audiences. Then again, since so many of us are watching TV and films on small screens again, maybe we are actually go backwards.
---
Halloween is coming next week, so lots of chocolate will be bought and consumed. It is a historical and ancient food, though much of what we call chocolate today is far from what it once looked and tasted like.
It comes from the cultivated cacao tree (Theobroma cacao). Cacao domestication and chocolate have long been seen as emerging from Central America and Mexico where it was found mentioned in texts and there is archaeological evidence of it being consumed. It was in the form of a drink that was more gruel than modern hot cocoa.
It was once considered a food of the gods. It only showed up in the American Southwest about 1,000 years ago, but it was believed that cacao domestication and chocolate production originated in Mesoamerica less than 4,000 years ago.
But some newer research by a multidisciplinary team makes a case for chocolate use going back almost 5,500 years. They find evidence not in Mexico or Central America, but in the upper Amazon of South America.
---
It is late October. It is autumn here on the top half of the planet, but there are days that feel like summer and nights and mornings that feel like winter. I like the change of seasons. I'm not sure how I would feel about living in a place that is all one or two seasons. On a wintry day when I'm dealing with ice and snow, that kind of place sounds very appealing, but I suspect it would be boring.
We don't think of seasons in outer space. So, it surprised me to read about the seasons of Triton.
Triton is Neptune's largest moon. It has been gathering frost on its surface.  We have been observing the accumulation of the frost for 20 years and that frost continues to travel northward from the southern polar cap of Triton.
The frost comes from the sun heating and sublimating volatile material before it travels northward.
But something else that I read made me think that Ray Bradbury could have written a story about this. Triton's frost varies over the world's full season. The season lasts 84 years.
In Bradbury' story "All Summer in a Day," a class of students on Venus wait for one special day. Bradbury's Venus is a world of constant rainstorms. The Sun is visible for only one hour every seven years. When I taught that story, I knew that my students couldn't really imagine what it would be like to have only one day of summer every seven years. I can't really imagine it myself.
What would it be like to have a Triton season of 84 years that might last your entire lifetime?  I can't go any further with that thought either.
The 1950s in America was TV time. In 1949, only 2 percent of American households had a television set. By 1955, 64 percent of American households had a TV set.
It would take about a decade before educators and some of the public would start to complain that television was ruining children's brains.
TV stations did have a problem filling up air time. Remember there was no way to record shows, so once a show was broadcast that was it. No reruns. (A few shows did get filmed with movie cameras right off a screen. They were known as a kinescope.) Most shows were live. There were old vaudeville acts, shows adapted from radio programs, travelogues, kiddie shows, shows for housewives, quiz and game shows. Most of what you saw was "local programming." Sports entered the scene, and baseball and boxing were most popular.
Stations soon discovered that using old films from travelogues to features was a good way to get content that could be repeated because it was already "prerecorded."
Though I am really a child of the 60s, I toddled my way through the second half of the 1950s and certainly watched TV. One movie showcase that I remember ran in the New York metropolitan area was on WOR-TV (Channel 9 for us) and was called "Million Dollar Movie."
I read online that it ran in various formats for three decades. It was the HBO of the time as it ran the same film all week long, sometimes two times a night. The idea was that you could watch it at your convenience, but for the station, it filled a lot of hours. Younger readers will not remember that stations "signed off" at night and in those early decades of television, there was nothing to watch overnight.
The opening credits for the show used "Tara's Theme" from my mother's favorite film, Gone With the Wind. The films shown were often features that had been in theaters a few years before with "million dollar" budgets (a big deal back then), but it also ran some low-budget films. I got my early film education watching Astaire and Rogers dance across our tiny screen and plenty of westerns. I probably watched King Kong and Mighty Joe Young a half dozen times.
There was nothing educational or interactive about TV. It was passive and that was why we loved it.  We gathered around the "cool fire" of the television hearth as a family to watch and "chill out." We made popcorn as if we were in our own movie theater.  Eventually, we convinced my mom to get frozen "TV dinners" (which were pretty dreadful) for us to eat while watching a show as a special treat.
In 1961, Newton Minow, FCC chairman, called television a "vast empty wasteland." It got nicknamed the "boob tube" which was not a reference to breasts but to the idiots ("boobs" meant that too) that watched and maybe those that made TV.
Literary critics, educators, government and religious leaders would all blame TV for destroying the habits and the moral fiber of the American family. No one was reading. Kids weren't go outside to play. Hollywood and theaters blamed it for a drop in their attendance and dollars (though they would later embrace it).
But the program that I was thinking about when I started this article was an odd littel show from the 1950s that was actually interactive.  It was on CBS and it was titled Winky Dink and You. It was a kids show that encouraged you to draw on the TV screen with crayons as you watched to interact with the characters. If the cartoon characters needed a bridge to cross a river, you were supposed to draw it there for them.
Of course, you were also supposed to buy a "magic screen" cover for your TV from the producers of the show. I suspect there were kids who drew on the actual TV set a few times.
The show first aired on Saturday mornings in 1953 and was carried live by about 175 stations around the country during its first year.
The technology was really crude and the stories were pretty dumb, but it was like nothing else on television at the time. My mom bought the screen for my sister to use. It came with some crayons in various colors. Of course, if you didn't draw that bridge, the characters still went over the river. At first, I tried to make the bridge or road or whatever do other things too, somehow imagining I had some control over he program.
There was human host, Jack Barry, who told viewers what to do to help Winky Dink, the child-like animated character, who got into lots of trouble and we had to help him out. You traced Barry's finger on the screen with your crayon to draw. No artistic talent required.
I found online that the actual magic screen set (available from the show originally) cost $1.98, and 2 million Winky Dink magic screen sets had been sold by February of 1955.
It was a great marketing idea, but there was also the idea that kids wouldn't just be passively watch a show.
Winky Dink ran until 1957 and there were a few attempts to revive it or something like it all the way into the 1960s. The show was revived in syndication for 65 episodes, beginning in 1969 and ending in 1973. In the 1990s, a new "Winky Dink Kit" was sold, containing a screen, crayons, and all-new digitized Winky Dink and You episodes, but by then "educational television" had turned into a more passive talk-at-you approach.
When I was getting a graduate degree in media, I recall reading about the show and attempts at interactivity in the big 3-volume reference book, TV in the USA: A History of Icons, Idols, and Ideas. Bill Gates said it was "the first interactive TV show." I suppose the most interactive we ever got with the TV screen wasn't with any shows but with videogames. Maybe it's time to revisit interactive TV in this age of artificial intelligence and many types of screens.

There was a meme online back five years or so about making your  Facebook profile picture a comic or cartoon character that you identified with for some reason. Lots of superheroes and princesses appeared. While I was surfing around for images, I discovered something pretty shocking about my old friend Archie Andrews of Riverdale. He got married. More than once.
It is even more complicated than that because the comic book universes on paper, TV or in the movies have lots of alternatives these days. I did some browsing at a local comic book shop and found a few Archie collections including Archie: The Married Life Book 1, part of the "Married Life Series." In this series Archie marries blonde Betty and in another version marries vixen Veronica.
I binged through this 320 page opus in two nights like I zipped through the 12-cent comics I was buying back in the early 1960s.
I haven't checked in on Archie, Jughead, Betty and Veronica in a lot of years and a lot has changed. One of the articles I read was titled Archie Gets Married and Goes to Hell.
The Archie I grew up on bounced back and forth between Betty and Veronica with occasional flirtation with anew girl at school.  Hie never-ending high school career of innocent foreplay lasted  68 years. He married Veronica.  When I first read about this I was a little sad, because I had been rooting for Betty all along.
Did marrying off Archie work for the publisher or was it a bad move?  The resulting comic, The Married Life: Archie Loves Veronica, sold 24 times their usual 2,500-odd copies per issue.
If you grew up with Archie, as I did, you will find it disorienting to see Archie and Veronica married and to see their marriage falter. Reading the comics as a pre-teen, I identified with these teenagers in a constant state of sexual tension and unrequited lust.
I grew up with the 1950s Archie classics. I can't say whether or not Betty and Veronica actually acted as a guide to dating
for a generation, but they certainly had an impact on the 1950s and early 60s generation.
The original Archie made his debut in 1941 and has been known ever since for his all-American wholesomeness. He also had a split passion for rich, brunette, glamorous Veronica and sporty, blonde girl-next-door Betty. A new management team at the publisher decided to bring him into the 21st century. The Veronica marriage hit me first, then I find out there is the alternate universe marriage to Betty, and Archie has a career as a musician in New York City and…
Part of that 21st century plan allowed for the creation of Riverdale, an updated TV version of Archie and his crew on the CW network. The first season premiered January 2017 to positive reviews, and was renewed for a second season.
At the end of 2017, Netflix ordered a two-season spin-off series based on the comic book Chilling Adventures of Sabrina.
Sabrina Spellman is the title character of the Archie Comics spinoff comic book Sabrina the Teenage Witch. Sabrina first appeared in Archie's Mad House #22 in October 1962. (Too bad I didn't save my copy of that issue in good condition as it goes for over $400 these days.)
Sabrina of 1962 was fun and light. This was a time when TV had another nice witch, Samantha, was very popular on Bewitched.
And Sabrina the Teenage Witch also had a 7 -season TV run with the light, safe and funny version of witchcraft.
In this much darker re-imagining of a new Sabrina, she is still 16 and having to choose between an unearthly destiny and her mortal life which, of course, includes a boyfriend.
This series is recommended for "Teen+." In the third book in the series (I can read them free via  KindleUnlimited), "it's the night before Halloween, the night before Sabrina's sixteenth birthday, the night of the blood-moon and the lunar eclipse, and she has made her decision: She will go into the woods of Greendale as a half-witch and emerge… on the other side of a frightful ritual… as a fully baptized member of the Church of Night."
There isn't much innocent sharing of a burger and fries at the malt shop here.

Things get even darker in the regular Archie universe. Book 6 in the Married Life series says on the cover "The Death of Archie."
Oh, they are really messing with my childhood. I may have to dig in my old comic book collection and reread some of the old classic Archie comics of many decades past.
Right off, I am a big fan of the Seinfeld TV show.  I have heard  many times the description of it as "a show about nothing." The show's original premise was that it was a show about  how Jerry Seinfeld, a standup comic, uses the everyday things in his life as material for his comedy. It opens with a bit of standup and for some episodes that bit ties into the episode.
Most episodes have at least three intertwining plots. For example, in episode 51, "The Contest," George confesses that "My mother caught me." They never say  "masturbating" in the episode, but its clear.  George says he'll never do "that" again. The gang is skeptical and Jerry, Kramer and George make a $100 bet to see who can abstain the longest. Elaine wants in on the contest, but has to put in $150, because the guys claim that it easier for women to abstain.
We switch to Kramer's infatuation with a woman in the apartment across the street who walks around in her apartment naked with the curtains open. He watches her, goes back to his place and returns to slap down his $100. "I'm out. I'm out of the contest."
Switch to George visiting his mother because she was hospitalized after catching George in the act with her Glamour magazine earlier. His new attraction is watching the shadowy silhouettes of his mom's attractive roommate getting a sponge bath from an attractive nurse.
Switch to Elaine at her gym when she finds out that John F. Kennedy, Jr. also uses the gym. She plots to meet up with him.
Jerry is frustrated because the woman he's dating won't have sex with him since she wants to remain a virgin.
All of them are unable to sleep – except for Kramer.
Elaine arranges to meet Kennedy outside Jerry's apartment later. The thought of them hooking up is more than she can handle and she is the second person out of the contest.
Jerry's virgin is finally ready for sex, but Jerry makes the mistake of mentioning the contest and she leaves in disgust. Elaine arrives believing Kennedy stood her up, but George tells her that Kennedy did come, but missed her and went with the virgin. They then see Kramer with the naked woman across the street.
So, who won the contest? Jerry or George?  Not revealed here. In the fifth-season episode "The Puffy Shirt", George mentions that he "won a contest" in a conversation about masturbation, but in the series finale, he confesses that he cheated.
That's a lot of nothing.
In Seinfeld's 43rd episode, things get meta. Jerry and George pitch a sitcom to television executives and George says (mostly because they have no real ideas to pitch) that it will be a show where "nothing happens." It gets picked up and the show that they develop is what we know as Seinfeld, with a George, Elaine, Kramer and Jerry as himself.
A book about the series, Seinfeldia: How a Show About Nothing Changed Everything, has a lot to say about that nothing concept. People often point to the episode "The Chinese Restaurant" in season two.  The episode is about Jerry, Elaine and George (no Kramer) waiting for a table at a Chinese restaurant. That's it. Yes, George tries to use the pay phone (pre-mobile phones) and Jerry can't place a woman that he is sure he has met before, but really they just wait and talk.
The episode is set in real time, without scene-breaks. NBC execs were not thrilled with it because it had no real storyline. C-creator/writer Larry David threatened to quit if the network forced major changes to the script. NBC gave in to production, but postponed broadcast to the near end of the season.
But if you really want to take a deep dive on Seinfeld nothingness, the video above by Evan Puschak (Nerdwriter) connects the show and its nothingness to 19th-century novelist Gustave Flaubert.
Apparently, in an 1852 letter, Flaubert wrote about his his ambition to write "a book about nothing, a book dependent on nothing external, which would be held together by the internal strength of its style."  It may not have achieved all of that, but the novel was Madame Bovary.
If you really want to view Seinfeld as a show about nothing more literally, watch the video below which is an edit of moments from the series when nothing happens. Turn off the sound for a Zen of Seinfeld experience.
"A Stop at Willoughby" is an episode from the first season of  the television series The Twilight Zone.  I watched that show with my parents as a kid, and I usually watched while hiding behind a pillow on our couch. Many episodes scared me. I remember "A Stop at Willoughby" and I'm sure I watched it a few more times in reruns.
In the episode, a businessman who is having a lousy time at work and at home, falls asleep on his train ride home. He wakes to find the train empty and stopped at a town called Willoughby – but it's July 1888. It looks like a wonderfully peaceful place, but he is jerked awake and back into the present. He asks the conductor if he has ever heard of Willoughby, but the conductor says there is no such town on their route.
After another lousy work day, he falls asleep again on the train and finds himself in Willoughby again. This time, he gets off the train and is welcomed warmly by the people there.
The scene suddenly shifts back to the present and a train engineer is standing over the businessman's body. The conductor tells him that the businessman shouted something about Willoughby and jumped off the train and was killed instantly.
The ending shocked me. His escape was suicide. To add a further shock to the ending, as his  body is loaded into a hearse, we see that the name of the funeral home is Willoughby & Son.
That episode was the first thing I thought of when I saw a story online about "haunted Willoughby, Ohio." This town has a number of stories that would work as scripts for The Twilight Zone. For example, Willoughby Coal is supposed to have menacing apparitions that appear in its darkened windows. But the best known story is the one I came across online that centers on Willoughby Cemetery, where the Girl in Blue's spirit supposedly stays unsatisfied near her grave.
Her story begins December 23, 1933. A young woman with auburn-hair and hazel-eyes gets off the Greyhound bus by herself in Willoughby. No one knew who she was or why she was there. She took a room at a local  boarding house, and the next morning she asked the owner about local church services and then went out into the town.
She was dressed entirely in blue. She walked through town, unknown, but saying hello to those she met and being welcomed by those she passed.
At the train station, according to witnesses, as a train rushed through the station she sprinted to the tracks and the train sent her body hurtling onto the gravel siding. Although she had no blood or visible wounds, she was dead of a fractured skull.
There was no identification in her purse, but she had a train ticket to Corry, Pennsylvania. "The Girl in Blue" became a local mystery. Had she committed suicide or was she trying to catch that train? Why had she made a stop in Willoughby?
People in town made donations for a headstone and flowers and this unknown person from somewhere else had 3,000 local residents attend her funeral service.
Her headstone reads "In Memory of the Girl in Blue, Killed by Train, December 24, 1933, Unknown but not Forgotten."
For 60 years, she was a mystery. Then, the week before Christmas Eve in 1993, an article in the News Herald about the 60th anniversary of her death was seen by a real estate broker near Corry, Pennsylvania. He remembered the sale of a family farm and that one of the documents that finalized the sale of the farm was a signed affidavit filed by a son in 1985 that stated that his sister Josephine had died in Willoughby, Ohio on December 24, 1933.
The real estate brokers investigating had given The Girl in Blue a name. She was the daughter of Jacob and Catherine Klimczak, Polish immigrants who arrived in Pennsylvania in 1901. Her name was Josephine, but to her five sisters and three brothers, she was known as Sophie. In Willoughby, a second gravestone was added with both of her names.
Her gravesite is said to have strange orbs hovering nearby, and recordings of a disembodied female voice have been made at her grave; and the figure of a woman has been seen standing next to the headstone, dressed in blue.
Why did she make her own stop in Willoughby?  Did she commit suicide to escape her life? Is there some connection between The Girl in Blue and The Twilight Zone?
The Twilight Zone's creator, frequent writer and host narrated each episode and always told us that:
"There is a fifth dimension, beyond that which is known to man. It is a dimension as vast as space and as timeless as infinity. It is the middle ground between light and shadow, between science and superstition, and it lies between the pit of man's fears and the summit of his knowledge. This is the dimension of imagination. It is an area which we call The Twilight Zone."
The word bildungsroman showed up in an article I was reading.  It is a German word that you are only likely to encounter in a literature class. It describes a novel of formation, education, or culture. In English, we are more likely to call a novel or film like this a "coming-of-age" story.
Generally, these are stories of youth, but reading it now much later in my life got me wondering about when coming-to-age ends. In some ways even with six decades passed, I still feel like one of those protagonists.
The typical young protagonist is a sensitive, perhaps a bit naïve, person who goes in search of answers to life's questions. They believe that these experiences will result in the answers. Supposedly, this happens in your twenties, but I don't know if I have finished this journey yet. I suspect I am not alone in having this unfinished feeling.
Young adult novels certainly deal with this, but so do literary novels whose authors would not want the YA label stamped on their book's spine. These are good novels to teach. They often focus on the psychological and moral growth of the protagonist from youth to adulthood and character change is very important.
Scanning my bookshelves I see lots of books that fall into this category, from The Telemachy in Homer's Odyssey from back in 8th century BC, to the Harry Potter series. I would include that early novel The History of Tom Jones, a Foundling by Henry Fielding,  A Portrait of the Artist as a Young Man by James Joyce, The Catcher in the Rye by J. D. Salinger, Lord of the Flies by Aldous Huxley and The Bell Jar by Sylvia Plath.
When I taught middle school and high school, teaching The Outsiders, Romeo and Juliet, The Pigman, To Kill a Mockingbird and other bildungsroman works just seemed like the right places to spend time with my students.
In our western society, legal conventions have made certain points in late adolescence or early adulthood (most commonly 18-21) when a person is "officially" given certain rights and responsibilities of an adult. But driving a car, voting, getting married, signing contracts and buying alcohol are not the big themes of bildungsroman novels. Society and religion have even created ceremonies to confirm the coming of age.
I've passed all of those milestones, but I still feel like I haven't arrived.
Charles Dickens wrote in David Copperfield, "Whether I shall turn out to be the hero of my own life, or whether that station will be held by anybody else, these pages must show." We are all the protagonists of our own lives. But hero…  I'm not so sure.
Since I am still coming of age, I am a sucker for films and television live in that world of transition.  If I was teaching a course on Bildungsroman Cinema, I might include Bambi, American Graffiti,  The Breakfast Club, Stand by Me,  The Motorcycle Diaries, The Perks of Being a Wallflower, Boyhood, and Moonlight. I could include many other "teen" films of lesser quality.
On television, series like The Wonder Years, Freaks and Geeks, Malcolm in the Middle, and The Goldbergs are all ones that deal with coming of age. They are also all family sitcoms. Coming-of-age has a lot to do with family. And it can be funny as well as tragic. It's good materials for books and media because it has all that plus relationships, sex and love. On the visual side, it means physical changes that you can actually see, while the internal growth is often hidden and slow to catch up with physical growth.
I have read plenty of things that contend that adolescence is being prolonged and therefore adulthood and coming-of-age is being delayed. The new Generation Z cohort is supposedly an example of this. I have also read about the Boomerang Generation. This is a very Western and middle class phenomenon and the term is applied to young adults who choose to share a home with their parents after previously living on their own. They boomeranging back to their parents' residence.
I remember reading about the "Peter Pan syndrome" which was a pop-psychology concept of an adult who is socially immature. It is not a condition you'll find in the Diagnostic and Statistical Manual of Mental Disorders as a specific mental disorder.
In Aldous Huxley's 1962 novel Island, a character refers to men who are "Peter Pans" as "boys who can't read, won't learn, don't get on with anyone, and finally turn to the more violent forms of delinquency." He uses Adolf Hitler as an archetype of this phenomenon.
Do some people never come of age? How old were you the last time someone told to "grow up" in some way or another?
Huxley's Peter Pans are a problem, but what about people who are quite mature and adult but still are in search of answers to life's questions and the experiences that might result in the answers? What's the name for that syndrome?