You are currently browsing the tag archive for the 'TV' tag.
As I work my way through the week, reading online and offline, listening, and looking around me, I collect things that I might want to write about here. Sometimes those notes lead to deeper searching, sometimes research, and sometimes they lead no further. Friday night is my start to the weekend and I usually post my shortest posts then.
Here are three things that are what they are and not anything more. A light buffet of ideas. Sample. Maybe you'll like something enough to go further yourself.
---
For example, I heard someone on the radio (actually, it was a podcast, but I still think of them as radio) ask if the interviewer knew what industry was worth $28 billion. That is more than the NFL, the NBA and MLB together. Answer: the book publishing industry. And I thought books were becoming a thing of the past. The statistic makes me feel better about books, bookstores and libraries – good places full of good things.
---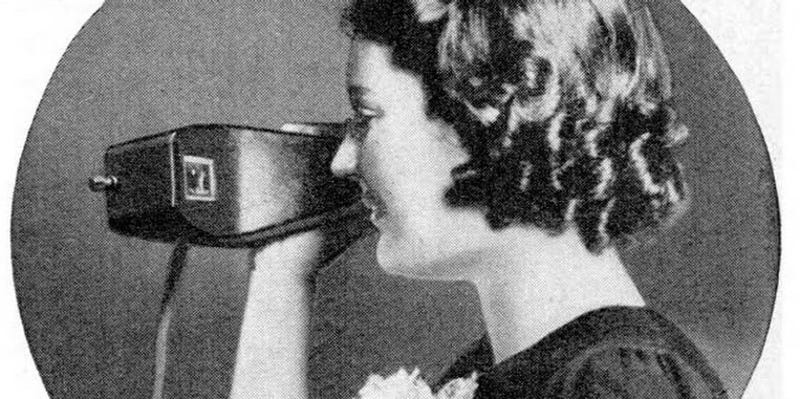 In 1938, television was an idea being developed. No sets in homes. No programs. People didn't know quite what could be done with it. When Edison was playing around with film, he wrongly was thinking of nickelodeon style viewing machines where you plunked in a coin and watch your little show. he was wrong, and rather quickly movies were projected for groups of people on a larger screen.
The same thinking was around with television. I came across this odd little device from a British company called the "Television Monocle." It had a tiny screen, measuring just 1.5 inches by 1 inch, for a personal viewing experience. It looks a bit like the viewfinder on a video camera.
As with film, the path would lead to broadcasting to big audiences. Then again, since so many of us are watching TV and films on small screens again, maybe we are actually go backwards.
---
Halloween is coming next week, so lots of chocolate will be bought and consumed. It is a historical and ancient food, though much of what we call chocolate today is far from what it once looked and tasted like.
It comes from the cultivated cacao tree (Theobroma cacao). Cacao domestication and chocolate have long been seen as emerging from Central America and Mexico where it was found mentioned in texts and there is archaeological evidence of it being consumed. It was in the form of a drink that was more gruel than modern hot cocoa.
It was once considered a food of the gods. It only showed up in the American Southwest about 1,000 years ago, but it was believed that cacao domestication and chocolate production originated in Mesoamerica less than 4,000 years ago.
But some newer research by a multidisciplinary team makes a case for chocolate use going back almost 5,500 years. They find evidence not in Mexico or Central America, but in the upper Amazon of South America.
---
It is late October. It is autumn here on the top half of the planet, but there are days that feel like summer and nights and mornings that feel like winter. I like the change of seasons. I'm not sure how I would feel about living in a place that is all one or two seasons. On a wintry day when I'm dealing with ice and snow, that kind of place sounds very appealing, but I suspect it would be boring.
We don't think of seasons in outer space. So, it surprised me to read about the seasons of Triton.
Triton is Neptune's largest moon. It has been gathering frost on its surface.  We have been observing the accumulation of the frost for 20 years and that frost continues to travel northward from the southern polar cap of Triton.
The frost comes from the sun heating and sublimating volatile material before it travels northward.
But something else that I read made me think that Ray Bradbury could have written a story about this. Triton's frost varies over the world's full season. The season lasts 84 years.
In Bradbury' story "All Summer in a Day," a class of students on Venus wait for one special day. Bradbury's Venus is a world of constant rainstorms. The Sun is visible for only one hour every seven years. When I taught that story, I knew that my students couldn't really imagine what it would be like to have only one day of summer every seven years. I can't really imagine it myself.
What would it be like to have a Triton season of 84 years that might last your entire lifetime?  I can't go any further with that thought either.
The 1950s in America was TV time. In 1949, only 2 percent of American households had a television set. By 1955, 64 percent of American households had a TV set.
It would take about a decade before educators and some of the public would start to complain that television was ruining children's brains.
TV stations did have a problem filling up air time. Remember there was no way to record shows, so once a show was broadcast that was it. No reruns. (A few shows did get filmed with movie cameras right off a screen. They were known as a kinescope.) Most shows were live. There were old vaudeville acts, shows adapted from radio programs, travelogues, kiddie shows, shows for housewives, quiz and game shows. Most of what you saw was "local programming." Sports entered the scene, and baseball and boxing were most popular.
Stations soon discovered that using old films from travelogues to features was a good way to get content that could be repeated because it was already "prerecorded."
Though I am really a child of the 60s, I toddled my way through the second half of the 1950s and certainly watched TV. One movie showcase that I remember ran in the New York metropolitan area was on WOR-TV (Channel 9 for us) and was called "Million Dollar Movie."
I read online that it ran in various formats for three decades. It was the HBO of the time as it ran the same film all week long, sometimes two times a night. The idea was that you could watch it at your convenience, but for the station, it filled a lot of hours. Younger readers will not remember that stations "signed off" at night and in those early decades of television, there was nothing to watch overnight.
The opening credits for the show used "Tara's Theme" from my mother's favorite film, Gone With the Wind. The films shown were often features that had been in theaters a few years before with "million dollar" budgets (a big deal back then), but it also ran some low-budget films. I got my early film education watching Astaire and Rogers dance across our tiny screen and plenty of westerns. I probably watched King Kong and Mighty Joe Young a half dozen times.
There was nothing educational or interactive about TV. It was passive and that was why we loved it.  We gathered around the "cool fire" of the television hearth as a family to watch and "chill out." We made popcorn as if we were in our own movie theater.  Eventually, we convinced my mom to get frozen "TV dinners" (which were pretty dreadful) for us to eat while watching a show as a special treat.
In 1961, Newton Minow, FCC chairman, called television a "vast empty wasteland." It got nicknamed the "boob tube" which was not a reference to breasts but to the idiots ("boobs" meant that too) that watched and maybe those that made TV.
Literary critics, educators, government and religious leaders would all blame TV for destroying the habits and the moral fiber of the American family. No one was reading. Kids weren't go outside to play. Hollywood and theaters blamed it for a drop in their attendance and dollars (though they would later embrace it).
But the program that I was thinking about when I started this article was an odd littel show from the 1950s that was actually interactive.  It was on CBS and it was titled Winky Dink and You. It was a kids show that encouraged you to draw on the TV screen with crayons as you watched to interact with the characters. If the cartoon characters needed a bridge to cross a river, you were supposed to draw it there for them.
Of course, you were also supposed to buy a "magic screen" cover for your TV from the producers of the show. I suspect there were kids who drew on the actual TV set a few times.
The show first aired on Saturday mornings in 1953 and was carried live by about 175 stations around the country during its first year.
The technology was really crude and the stories were pretty dumb, but it was like nothing else on television at the time. My mom bought the screen for my sister to use. It came with some crayons in various colors. Of course, if you didn't draw that bridge, the characters still went over the river. At first, I tried to make the bridge or road or whatever do other things too, somehow imagining I had some control over he program.
There was human host, Jack Barry, who told viewers what to do to help Winky Dink, the child-like animated character, who got into lots of trouble and we had to help him out. You traced Barry's finger on the screen with your crayon to draw. No artistic talent required.
I found online that the actual magic screen set (available from the show originally) cost $1.98, and 2 million Winky Dink magic screen sets had been sold by February of 1955.
It was a great marketing idea, but there was also the idea that kids wouldn't just be passively watch a show.
Winky Dink ran until 1957 and there were a few attempts to revive it or something like it all the way into the 1960s. The show was revived in syndication for 65 episodes, beginning in 1969 and ending in 1973. In the 1990s, a new "Winky Dink Kit" was sold, containing a screen, crayons, and all-new digitized Winky Dink and You episodes, but by then "educational television" had turned into a more passive talk-at-you approach.
When I was getting a graduate degree in media, I recall reading about the show and attempts at interactivity in the big 3-volume reference book, TV in the USA: A History of Icons, Idols, and Ideas. Bill Gates said it was "the first interactive TV show." I suppose the most interactive we ever got with the TV screen wasn't with any shows but with videogames. Maybe it's time to revisit interactive TV in this age of artificial intelligence and many types of screens.
Television has attracted and distracted me my entire life. These days it seems as though there is so much content available that it is impossible to keep up. people are always asking me "Did you watch ______?  (fill in the blank) and most of the time my answer is No.
I actually keep a list of shows to watch. This is part of this era of streaming options, on-demand and binge watching.
And then there is cutting the cord that tethers you to cable and paid services. I have Netflix and Amazon Video and have some free offer access to HBO and Showtime, and just those offer way too much to consume.
I tend to stick with only a few series at a time. Too many and I can't keep track of what episodes I already watched or what happened in them. Too many times my wife and I have returned to a series after a week or two and watch the "previously on" clips at the beginning and asked each other "Did we see that already?"
If you really want to cut the bills for content there are plenty of sources for free movies and TV shows. YouTube has a lot of free stuff (and now has low cost content too), and there are mostly free older movies and shows in the public domain in various places.
I can always watch old comedies like His Girl Friday , My Man Godfrey or My Favorite Brunette for free on a slow and lazy day.
There are channels designed to provide free content. Crackle (now owned by Sony) was a channel I discovered a few years ago when it popped up on y smart TV and was showing the first seasons of Jerry Seinfeld's Comedians in Cars Getting Coffee. I have since watched all those episodes and now the series has moved to the paid land of Netflix.  Crackle has movies, TV shows and some original series.
The big networks have taken note of the free and the cord cutters and now offer some free online content and have been moving into their own streaming networks.
AT&T recently merged with Time Warner and launched a new low-cost streaming service, WatchTV. You can stream through the WatchTV app or on some browsers at no extra cost with AT&T's two latest unlimited wireless plans. For everyone else, you can purchase WatchTV for $15 per month. It has  over 30 live channels and 15,000 TV shows and movies on demand. It's like a mini-cable subscription with A&E, AMC, CNN, Food Network, TBS, TNT, BET and Comedy Central.
But back to free…  Have you seen Tubi TV? It offers some popular shows and films without a subscription. The selections are updated weekly. You can get the app for your Apple devices and Android. That points to two trends: entertainment at zero cost, and watching TV (or should I just call it video?) on smaller devices like your phone.
Of course, we are still buying big TV screens and throwing content up there too. This week I was showing friends a slideshow of my son's wedding photos by plugging a USB flashdrive into the side of the big TV.
No lack of alternative entertainment.
Jean Shepherd is best known to his devoted fans as a radio raconteur. I listened to him for about two decades on WOR-AM in New York City. Often I was listening on a transistor radio that was by my bed pillow before I went to sleep. I lived in New Jersey, and Jersey often figured in Shep's stories, usually as the home of "slob art."
His nighttime program was a hard-to-define blend of stories, commentary, and occasional oddities of "music" that seemed to go in ten attention-deficit directions until the program's closing when it all seemed to somehow pull together. Though I learned via interviews and books that it was unscripted, Shep often walked into the studio with an article, letter or general theme for where the show was going to or at least where it would start.
Flick succumbs to a double dog dare to put his tongue
on the frozen pole. Don't try this at home, kids.
To younger people or those outside of the NY/NJ metro area, he is probably best known for writing the 1983 hit film A Christmas Story. The film is now a perennial Christmas classic that is run and rerun in the way that It's a Wonderful Life was and sometimes still is run on TV in December. Though I think of It's a Wonderful Life as a holiday classic, it is also almost film noir and gets quite dark in its second half. But A Christmas Story is pure nostalgia.
The film was based on a half-dozen stories, mostly from his 1966 collection, In God We Trust: All Others Pay Cash which is my favorite of his books. Those stories, some of which had run in magazines as standalone tales, are connected by the protagonist, Ralphie and his brother and parents and based on Shep's childhood in Indiana. Though the film has become known as a family or even children's story, I always viewed the book as more of a coming-of-age book. The stories are tied together by their time and place and connected by a much older Ralphie going back to Indiana.  Jean's alter-ego character is Ralphie Parker (Shep's birth name is  Jean Parker Shepherd), a kid growing up in 1930's Indiana.
I sat down this weekend to write this because I saw that A Christmas Story Live, a stage version of the movie, is on FOX tonight, December 17, at 7 pm ET. It has run on Broadway and across the country. I avoided seeing it because I feared it would ruin the film and book for me. But, it's free on TV and I can always turn it off and not be upset that I lost a few hundred bucks on a trip to Broadway, soI will watch the show.
This live version has Matthew Broderick playing grownup Ralphie (the narrator). (He was played by Jean Shepherd and ralphie's old man was played by Darren McGavin in the original movie version.) Maya Rudolph is the mom. (Melinda Dillon played her in the movie.) There is a nice little synchronicity in the casting because Matthews's father, James Broderick, played Ralphie's father (billed as "the old man" not Mr. Parker) when Shep did several PBS adaptations of his Indiana stories.
Some years at Christmastime, Jean would read a version of the original short story that became the basis for the movie on his WOR-AM radio show (see video below). The main short story for the film appeared in Playboy as  "Duel In The Snow, Or, Red Ryder Nails the Cleveland Street Kid" and was reprinted as a chapter in Shepherd's 1966 book, In God We Trust, All Others Pay Cash.
Shep narrates the film and has a brief cameo as an adult also in the line to see Santa at a department store who tells Ralphie to get in the back of the line.
Jean Shepherd the writer published many magazine stories in Mad magazine and The National Lampoon, The New York Times, Playboy, Mademoiselle, Car and Driver, and Omni. He was one of the early columnists for The Village Voice newspaper in New York City. I believe you can find almost all of the stories collected in his four book collections (see below).
In the 70's and 80's he became more interested in TV and film and less interested in radio. He did several pieces for PBS from small bits to television movies including The Phantom of the Open Hearth.
In 1975, he did a popular non-fiction PBS television series titled Jean Shepherd's America and another series for the New Jersey PBS station entitled Shepherd's Pie.
Jean Shepherd was born in Chicago, in 1925 and the majority of his written stories and films were set in his childhood years. From his adult life, the most we heard about was from his Army days in the Signal Corps.
The stories he told on-air were always improvised, but he later wrote some of the childhood ones down and he published them in collections like In God We Trust: All Others Pay Cash and Wanda Hickey's Night of Golden Memories: And Other Disasters.
Much of Jean Shepherd's real life is unknown. He made the line between fact and fiction very blurry. Sometimes he said things had happened that others have found did not happen. He rarely talked about his adult life. He was married three times but didn't talk about his wives. Did he have children? Where did he live?
I had heard that he is the basis for the Jason Robards character in the play and film, A Thousand Clowns, which was written by Shep's friend, Herb Gardner. I didn't know that when I saw that film (which was nominated for a Best Picture Oscar) but I liked that guy, so some Shep must have come through.
He is supposed to be the inspiration for the Shel Silverstein song made famous by Johnny Cash, "A Boy Named Sue." Having the gender neutral name "Jean" wasn't easy as a kid, and in later life he was often confused with a female country singer with the same name, though Shep has certainly eclipsed her in fame by now.
The Jack Nicholson late-night radio talker in New Jersey in The King of Marvin Gardens seems like he might have been somewhat inspired by Shep.
In the film Network, written by Paddy Chayefsky who was another in Shep's circle, the main character is a television newscaster who tells his viewers to open their windows and yell, "I'm mad as hell, and I'm not going to take this anymore." To a Jean Shepherd listener, that has got to have some basis in Shep's frequent habit of "hurling an invective." I remember him telling all of us to yell out the window at the same time, and another time having all of us jump up in the air at the same moment to see if we could knock the Earth a bit off its axis.
Shep once pulled off a publishing hoax by promoting a non-existent book called I, Libertine  by a non-existent author, Frederick R. Ewing. Shep was not happy with the way the best-seller lists were compiled and wanted to prove it was a rigged joke.
He told his listeners to go out and buy the book and they did try. The requests got bookstores asking their distributors for copies and that got at least one publisher (Ballantine Books) interested in creating the title. Ballantine had Shep work up an outline of the story and hired a ghostwriter, Theodore Sturgeon, who was known for science-fictions stories. It was written, published and due to the demand it actually made the best-seller list. Copies of the original paperback are now quite collectible.
Jean also did live shows. I guess it was standup comedy but not in the way that we think of that today. He appeared at Carnegie Hall, Town Hall, and I saw him a half-dozen times at colleges, high schools and other venues. He wasn't Jerry Seinfeld. He wasn't obscene like Lenny Bruce or political like Mort Sahl. He was closer to Mark Twain and James Thurber if they had done an hour on stage. Humor and comedy are not the same animal.
In the late 1990s, Shepherd was working on new film projects, but his health was failing. I lost touch with him because he stayed out of  the public eye, and his personal life had always been a mystery in a Bob Dylan way with lots of misinformation and outright lies perpetrated by him.
We do know that his longtime companion, collaborator, and third wife of 21 years, was Leigh Brown. "Little Leigh" always seemed to be in the WOR studio with him and sometimes was referenced in his comments on air. She died in 1998 and Jean died the following year in a hospital near his Sanibel Island, Florida home. I have read that he had no survivors, so his intellectual property is owned by an entertainment group.
I have discovered a good number of Shep fans over the years, from people my age who lived in the tri-state area of WOR and listened, to young people who discovered him through the film and traced their way back in his career, to other humorists influenced by him like Harry Shearer.
A good free collection of Shepherd radio show audio online is The Shep Archives. All you have to do is register and you can listen and download mp3 files of old WOR shows, interviews, and audio from some of the television shows.
There are other sites too because many devoted fans back in the day recorded the show on their reel-to-reel or cassette recorders. I'm glad they did because the radio station certainly didn't care enough to archive shows. The Brass Figlagee podcast has 300 show files and some are on also available free at archive.org.
Bob Kaye's Jean Shepherd Page is a nice site, and Jim Clavin has a good fan site called Flick Lives! that includes links to places where you can hear some of Shep's old broadcasts.
"Flick Lives" is a reference to a character in many Shepherd tales from his Indiana days. Flick is the kid who gets his tongue frozen to a pole in A Christmas Story.  Fans used to write "FLICK LIVES" as graffiti in the way that soldiers once wrote "Kilroy was here."  We marked our turf and showed that we followed Shep with those two words.  And yes, people used to often join the L and I in Flick to create a totally different message to the world.
Books
---
Christmas Eve 1974 – Shepherd reads the story on air at WOR-AM in NY
that would later become the movie, A Christmas Story.
 "Beer" from Jean Shepherd's America
Opening from an episode of Shepherds's Pie (not great audio/video quality)
I was happy to read that BBC AMERICA announced a new series based on Douglas Adams' Dirk Gently novels. The series, Dirk Gently's Holistic Detective Agency, is scripted by Max Landis and comes from the producers of The Walking Dead. 
They are billing it as a "comedic thriller that follows the bizarre adventures of the eccentric holistic detective." Dirk Gently is played by Samuel Barnett, his reluctant assistant Todd is played by Elijah Wood, and Hannah Marks is Todd's sister Amanda. Oscar-winning director Dean Parisot will direct the series' first two episodes. They are shooting the series in Vancouver.
There was an earlier BBC series called simply Dirk Gently that starred Stephen Mangan in the title role in 2010 and 2012.
I liked the earlier series and I loved the Douglas Adams
' novels starting with the 1987 Dirk Gently's Holistic Detective Agency
.
The way they are playing the new TV adaptation for this fall, Dirk and Todd will be working their way through one mystery all season, though it will take holistically absurd and unlikely paths.
I am a Dirk Gently fan and have written about Dirk and his adventures before and I do recommend the books, but I know it's easier to watch it unfold from your couch, so set your DVR.
Regular readers of this blog will know that I have a penchant for time travel stories. So, it is with some interest that I find that the old-fashioned TV networks are lining some up time travel TV for the new seasons.
NBC has Timeless, billed as a thriller about some misfits time traveling to try to stop a criminal mastermind.

On ABC, we'll get Time After Time  which has the 19th century sci-fi author H.G. Wells (who wrote The Time Machine and started a lot of this) searching for an escaped Jack the Ripper who has traveled to modern-day New York using Wells' time machine.
If that sounds familiar, it is because it is based on a 1979 movie also called Time After Time . That's a film I really enjoyed. Jack the Ripper, a serial killer of the 19th century, turns out to be a doctor acquaintance of Wells who evades the police by using Wells' time machine. However, Dr. Stevenson may have escaped to the future, but because he does not have the "non-return" key, the time machine automatically returns to 1893. H.G. Wells uses it to pursue Stevenson to 1979, where the machine has ended up on display at a museum in San Francisco.
Wells, the real life author now fictionalized, is shocked and disappointed by the future. His predictions had been of an enlightened socialist utopia. He finds a future of war, crime and bloodshed that is better suited to Jack the Ripper.
On FOX, they are going in a comic direction with the mid-season show Making History which will have  buddies who jump in time back to historical events, such as the Revolutionary War.
Minus the comedy, that last one reminds me of The Time Tunnel show that was on in 1966–1967. It only lasted one season, but that was in a time when a season ran for 30 episodes.  The show was inspired by the 1964 movie The Time Travelers.
I loved that show in 1967. The special effects look pretty poor by today's standards, but the plot was also about two top-secret U.S. government time travelers who move from one period in history to another. Episodes were set in the past and future. In the series, the two travelers literally jumped into the "tunnel" before the technology was really ready and so become lost in time. I figured back then that I was learning some history when I watched the show. It also was the first time I thought about that paradox of what would happen if you went back in time and changed anything.
UPDATE:  I don't know if the series currently reruns on any channels, but it is available from Amazon. A reader emailed me to say that the series is available, though in an odd format, for free on YouTube. I watched a few episodes today. It is pretty much as I remember it, and about as dated as any memories I have of 1966. Corny, with tacky effects and I can completely see why it appealed to my 13 year-old brain.