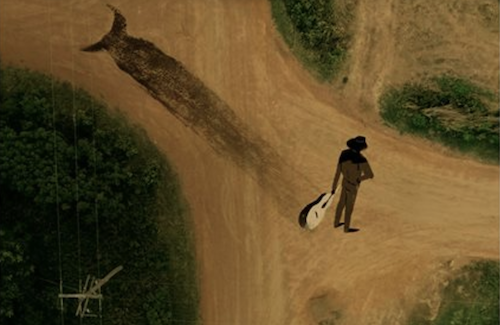 The song "Crossroads" as recorded by Cream popped up on my Spotify playlist today. It reminded me 1) of high school and 2) of a college literature class where we got into a discussion of crossroads in mythology.
In myth and magic, crossroads often represent a place between the worlds. It is a place where supernatural spirits can be contacted and paranormal events can take place. As a symbol, it sometimes is a place where two realms touch and therefore is neither here nor there, or "betwixt and between."
The song was written around 1936 by Delta bluesman Robert Johnson. The lyrics tell of a man kneeling at a crossroads to ask God's mercy. Johnson had said it was inspired by not being able to hitch a ride into town at a crossroads. The blues mythology has said that the crossroads is where Robert Johnson supposedly sold his soul to the Devil in exchange for his musical talents. The lyrics do not support that interpretation but the myth continued.
Crossroads go back to Greek mythology where they were associated with Hermes and Hecate and shrines and ceremonies often were set at a crossroad. Hermes was connected to travelers, but Hecate's connection to crossroads was ritualistic. "Suppers of Hecate" were offerings left for her at crossroads at each New Moon.
I have read that in the UK crossroad rituals date back to Anglo-Saxon times and continued until being the early 1800ss. Criminals and suicides were often buried at the crossroads. (Suicide was a crime.) This may have been simply because crossroads usually were outside the boundaries of the town and those people were to be kept apart. Criminals were sometimes punished and executed by gibbet or dule tree at a crossroad.
In Western folk mythology, a crossroads can be used to summon a demon or devil in order to make a deal. The 1587 Historia von D. Johann Fausten describes the character Faust inscribing magic circles at a crossroads and offering a copper coin in order to summon the devil.
Crossroads also appear in hoodoo, a form of African American magical spirituality, and Brazilian mythology.
The myth has been perpetuated in fiction, movies and TV. The U.S. television show. Supernatural, used crossroads demons in a number of episodes. In the Coen Brothers comedy, O Brother, Where Art Thou?, the character Tommy Johnson says that he sold his soul to the devil at the crossroads in exchange for guitar skills, an obvious allusion to the legend of Robert Johnson.