You are currently browsing the category archive for the 'Think About It' category.
I was sorting through old, college books in preparation for yet another book donation as I thin out my shelves of the books I read and will likely never reread – or bought and never did or will read. A philosophy class book on Benedict de (AKA Baruch) Spinoza fits into the former category.
I flipped through the pages and saw some of my of notes and marginalia. It is hard to believe I read this and perhaps even understood it at one time.
"everything in the universe is made of a single substance"
"the universe is subject to natural laws"
"soul and body are not separate – 2 parts of same thing"
In a section that I apparently found very interesting and heavily annotated, I noted:
"God does not stand outside the universe"
"the universe IS God"
This was heavy stuff for a college freshman. Now, I don't recall enough about Spinoza's philosophy to even fake a decent book report, but that last margin note about God is where I seem to have arrived philosophically at this late stage of my life.
Spinoza was born in Amsterdam in 1632 to a family of Portuguese Jews who had been forced to convert to Christianity by the Spanish Inquisition. The family took refuge in Amsterdam, where there was a vibrant community of Jewish merchants and intellectuals. Spinoza fit in but was excommunicated from the Jewish community for questioning the existence of miracles.
He supported himself making lenses, and in his spare time studied mathematics, philosophy, and theology.
He wrote and published three books in his lifetime, but only his first book, Principles of the Philosophy of Rene Descartes, actually carried his name because he was afraid that if he published his ideas, he would be branded a heretic by both Jews and Christians.
I first heard about remote viewing in the 2009 film The Men Who Stare at Goats which was more of a parody of real experiments done by the military into the paranormal. The film (starring George Clooney, Ewan McGregor, Jeff Bridges, and Kevin Spacey) is based on Jon Ronson's 2004 book of the same title. The film got me interested enough to read the book which is about attempts by the U.S. military to employ psychic powers as a weapon.
In the book The Men Who Stare at Goats, Ronson gets into the U.S. Army's exploration of how "New Age" paranormal concepts such as ESP were given serious consideration as having potential military applications of the paranormal.
The book's title refers to attempts that were made to kill goats by staring at them and stopping their hearts. A three-part British TV series in 2004, Crazy Rulers of the World, was based on the book.
I got thinking about all this again when I heard the recent podcast "Spooks and Psychics: Inside the Military's Top-Secret ESP Unit" on a podcast I really enjoy, To The Best Of Our Knowledge.
The podcast talks about one successful example of remote viewing (RV) which is the practice of seeking impressions about a distant or unseen target, purportedly using extrasensory perception (ESP) or "sensing" with the mind. In the example, a remote viewer was asked to "look" into a building in Russia by concentrating on a photo of it in a closed envelope. One soldier described a building on a shoreline, which smelled of gas and industrial products that had inside of it a large coffin-like object with fins, like a shark.
A few months later the CIA received satellite imagery showing that the Soviets had constructed a new ballistic missile submarine. It was later known by its NATO designation,  Typhoon class, but at the time of the remote viewing it was known in the USSR as the Akula. Russian for "shark." This is purported to be one of several true examples of the military's paranormal activity research.
My own investigations led me to another quite serious investigation in the book Phenomena: The Secret History of the U.S. Government's Investigations into Extrasensory Perception and Psychokinesis by Annie Jacobsen. She examines the now declassified papers that came from government attempts to locate hostages, fugitives, secret bases, and downed fighter jets, and gather other nations' secrets using the paranormal. It went as far as to try to predict future threats to national security. She says that the intelligence agencies and military services involved include CIA, DIA, NSA, DEA, the Navy, Air Force, and Army-and even the Joint Chiefs of Staff.
As the podcast noted, remote viewing experiments have been criticized for lack of repeatability, which scientists demand, but it may be that a successful remote viewing is a once-in-a-lifetime occurrence for a subject and just not repeatable. There is no scientific evidence that remote viewing exists, and so it generally falls under "pseudoscience," although it is physicists Russell Targ and Harold Puthoff, parapsychology researchers at Stanford Research Institute (SRI), who are generally credited with coining the term "remote viewing." They wanted to distinguish it from the closely related concept of clairvoyance.
Ronson's book first looks at the small group of U.S. Army officers in the late 1970s and early 1980s who wanted to use paranormal phenomena, some New Age philosophy, and elements of the human potential movement for intelligence-gathering.
Some of these efforts included First Earth Battalion Operations Manual from 1979 which you can now buy from Amazon! and a "psychic spy unit" established by Army Intelligence at Fort Meade, Maryland, in the late 1970s that was the focus of the film. This was the Stargate Project, established in 1978 by the Defense Intelligence Agency (DIA) and SRI International (a California contractor) to investigate the potential for psychic phenomena in military and domestic intelligence applications.
The Stargate Project was terminated and declassified in 1995 after a CIA report concluded that it was never useful in any intelligence operation. But conspiracy theorists seem to believe that its successes have been hidden from the public and are still being used covertly.
The "men who stare at goats" were Special Forces soldiers who supposedly experimented with psychic powers against goats at Fort Bragg, North Carolina, at the now-decommissioned "Goat Lab" medical training facility. Legend (and probably only a legend) is that one soldier was able to kill a goat simply by staring at it.
The middle section of Ronson's book jumps to more modern psychological techniques like the military programs from the post-9/11 War on Terror at Abu Ghraib, Guantanamo Bay, and the psyops in Iraq. The connections seem tenuous, but maybe I am naive.
I was much more interested in the parts of the book dealing with the 1950s Army psychic program, and later the CIA's MK-ULTRA "mind control" research program of experiments on human subjects that intended to identify and develop drugs and procedures to be used in interrogations. Early CIA efforts focused on LSD-25 to see if they could weaken an individual and force confessions through mind control. Could it be used to make Soviet spies defect against their will, or could the Soviets do the same to the CIA's own operatives?
The MK-ULTRA project is now well known and it appears in many films, TV shows, books and even songs.
Ronson suggests that the "psychic warriors" are again active in the U.S. military again. Put your tinfoil hats back on.
As I work my way through the week, reading online and offline, listening, and looking around me, I collect things that I might want to write about here. Sometimes those notes lead to deeper searching, sometimes research, and sometimes they lead no further. Friday night is my start to the weekend and I usually post my shortest posts then.
Here are three things that are what they are and not anything more. A light buffet of ideas. Sample. Maybe you'll like something enough to go further yourself.
---
For example, I heard someone on the radio (actually, it was a podcast, but I still think of them as radio) ask if the interviewer knew what industry was worth $28 billion. That is more than the NFL, the NBA and MLB together. Answer: the book publishing industry. And I thought books were becoming a thing of the past. The statistic makes me feel better about books, bookstores and libraries – good places full of good things.
---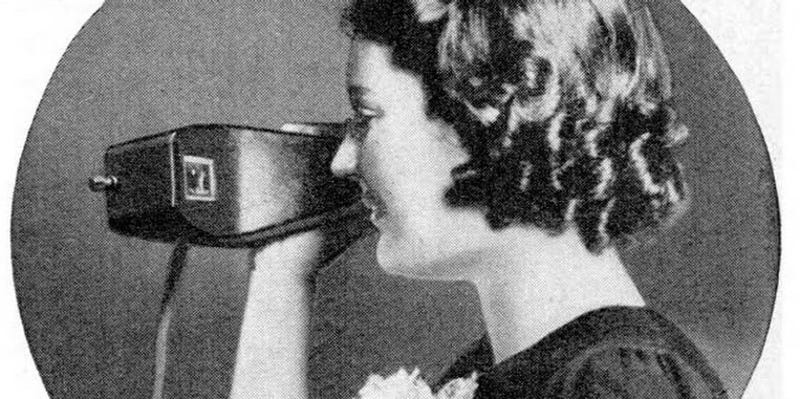 In 1938, television was an idea being developed. No sets in homes. No programs. People didn't know quite what could be done with it. When Edison was playing around with film, he wrongly was thinking of nickelodeon style viewing machines where you plunked in a coin and watch your little show. he was wrong, and rather quickly movies were projected for groups of people on a larger screen.
The same thinking was around with television. I came across this odd little device from a British company called the "Television Monocle." It had a tiny screen, measuring just 1.5 inches by 1 inch, for a personal viewing experience. It looks a bit like the viewfinder on a video camera.
As with film, the path would lead to broadcasting to big audiences. Then again, since so many of us are watching TV and films on small screens again, maybe we are actually go backwards.
---
Halloween is coming next week, so lots of chocolate will be bought and consumed. It is a historical and ancient food, though much of what we call chocolate today is far from what it once looked and tasted like.
It comes from the cultivated cacao tree (Theobroma cacao). Cacao domestication and chocolate have long been seen as emerging from Central America and Mexico where it was found mentioned in texts and there is archaeological evidence of it being consumed. It was in the form of a drink that was more gruel than modern hot cocoa.
It was once considered a food of the gods. It only showed up in the American Southwest about 1,000 years ago, but it was believed that cacao domestication and chocolate production originated in Mesoamerica less than 4,000 years ago.
But some newer research by a multidisciplinary team makes a case for chocolate use going back almost 5,500 years. They find evidence not in Mexico or Central America, but in the upper Amazon of South America.
---
It is late October. It is autumn here on the top half of the planet, but there are days that feel like summer and nights and mornings that feel like winter. I like the change of seasons. I'm not sure how I would feel about living in a place that is all one or two seasons. On a wintry day when I'm dealing with ice and snow, that kind of place sounds very appealing, but I suspect it would be boring.
We don't think of seasons in outer space. So, it surprised me to read about the seasons of Triton.
Triton is Neptune's largest moon. It has been gathering frost on its surface.  We have been observing the accumulation of the frost for 20 years and that frost continues to travel northward from the southern polar cap of Triton.
The frost comes from the sun heating and sublimating volatile material before it travels northward.
But something else that I read made me think that Ray Bradbury could have written a story about this. Triton's frost varies over the world's full season. The season lasts 84 years.
In Bradbury' story "All Summer in a Day," a class of students on Venus wait for one special day. Bradbury's Venus is a world of constant rainstorms. The Sun is visible for only one hour every seven years. When I taught that story, I knew that my students couldn't really imagine what it would be like to have only one day of summer every seven years. I can't really imagine it myself.
What would it be like to have a Triton season of 84 years that might last your entire lifetime?  I can't go any further with that thought either.
Trigger warnings are often warnings that a work (book, movie, TV program etc.) contains writing, images, or concepts that may be distressing to some people. The term and concept appeared in the 1990s. Now, you will find feminist websites discussing violence against women posting these warnings.
I really became aware of them when I was teaching at a university and heard about courses at other colleges that had started putting advisory labels on syllabi and course outlines. They were meant to alert students to material that might provoke painful memories.
Years before, when I was teaching younger students, I had parents who wanted trigger warnings (though we didn't have that term) for novels I was going to teach. I taught a middle school novel called Where the Red Fern Grows which is about a boy and his hunting dogs. I could see a spoiler alert – the dogs die – but a parent was upset because her daughter had a pet dog and she didn't want her to read the book because the dogs die. Reality alert: pets die.
I saw articles about such instances at colleges, including one student at my own alma mater (Rutgers) who wanted The Great Gatsby to come with this advisory: "suicide, domestic abuse and graphic violence."
Really?
Obviously, almost any sight, sound, smell, taste, touch, feeling or sensation could be a trigger to someone. But trigger warnings are most commonly used for content about sexual abuse and mental illness (suicide, eating disorders, and self-injury are typical reasons).
Few people would question that some material will disturb some people, but critics of trigger warnings feel that they are more indications of a new form of political correctness. Some have called trigger warning creators as "the language police."
Reporter Jenny Jarvie, writing for The New Republic, says that "What began as a way of moderating Internet forums for the vulnerable and mentally ill now threatens to define public discussion both online and off." She also sees the warnings as part of a "wider cultural hypersensitivity to harm and a paranoia about giving offense" that goes beyond classrooms.
Beyond warnings, she criticized a "safe space" for rape survivors at Brown University. That sounds like dangerous territory to be critical about in this #metoo age. But she described that space as having a childish décor consisting of "cookies, coloring books, bubbles, Play-Doh, calming music, pillows, blankets and a video of frolicking puppies."
Another article in The New Republic about the origins of the term questions not the warnings but the efficacy of them. Do they actually do anything positive?
"Trigger warnings aren't much help in actually overcoming trauma," Jonathan Chait rightly notes in his essay "Not a Very P.C. Thing to Say," published earlier this year in New York magazine. "An analysis by the Institute of Medicine has found that the best approach is controlled exposure to it, and experts say avoidance can reinforce suffering." Safe spaces and the larger trend toward hypersensitivity encourage students to "self-infantilize" and become more "insular," writes Judith Shulevitz in a piece for The New York Times titled "In College and Hiding From Scary Ideas."
The authors of a new book also believe that the culture of safe spaces and trigger warnings on college campuses is limiting students' intellectual development.
In "Coddling of the American Mind: How Good Intentions and Bad Ideas are Setting Up a Generation for Failure," authors Greg Lukianoff and Jonathan Haidt argue that by purging campuses of ideas, subjects or even people who they may not agree with and make students uncomfortable is doing them a disservice.
I listened to the authors on the CBS This Morning podcast. They feel that parents should do less sheltering of their children at a young age. They also make the case for why we need to be more intellectually humble.
I think the original intent of these warning was good, but it has gone a bit beyond. It is not unusual to hear that a speaker on a college campus has been shouted down or maybe even cancelled from speaking because of protests.
But the rates of anxiety, depression, and suicide on campuses are rising, so don't we need these warnings?
—on campus as well as nationally. How did this happen?
Does a culture of "safetyism" stunt young people's social, emotional, and intellectual development? Someone compared this to the overprotection of babies and kids to dirt and germs with antibiotics, anti-germ gels and wipes. A lot of research has shown that children need to be exposed to dirt and germs in order to build natural immunities.
Will children raised in this way have a harder time becoming autonomous adults who are able to self-navigate life?